2003: Golden Minerva
FIELD MARSHALS:
Gary "Rocketman" KOZLOWSKI
Nate PERRY
Emilie BANDY
Nicole PITRE 
ROPE BURN LEADER:
Leo GLAZER

SING COORDINATOR:
Stacey ABRAMSON
GENERALS:
Jason KATZ
Jason MARTIN
Gara OVADIA
Jaimee FOULADI
LIEUTENANT GENERALS:
Adam KRASNER
Adam WALLACH
Courtney GEORGE
Lily FEINMAN
MAJORS:
Derin GOODMAN
Clark SLATER
Jamie WEISSBERG
Gabi SPECTOR
THE PLAQUE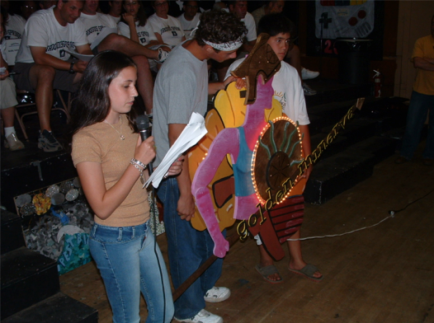 THE POEM
Golden Minerva
A true Goddess in form and mind
Strong, fair and merciful
Unswayed by the lust of winning
Driven by the power of the team
Embodying the true spirit of color week
Although appealing to the eye
Her true beauty lies within
Revealed through her many skills
Goddess of arts and literature
Thriving off of her imagination and creativity
Minerva is able to perform at tremendous heights
Goddess of activity
Pride in the team she is fighting for
Minerva is dedicated and courageous
Goddess of wisdom
With keen intellect and deep thought
Minerva becomes an unstoppable force
Emerging from her fathers head
Clad in full armor
Minerva was born ready for the challenge of battle
Able to weather any storm
Reigning supreme in Color Week 2003.
THE ESSAY
Minerva, a goddess admired by all mortals, whose wisdom far surpasses that of any human or godly creature. An immortal being whose feminine traits of beauty are only matched by her athletic prowess and masculinity. Minerva is the Roman goddess of wisdom, yet her skills far exceed just strength of the mind. Domestic arts, strategic warfare, harvest, education, science and weaving are just a few of her advanced undertakings. To understand the enigma that is Minerva, one must unveil her rich history.
The myth begins with the escapades of infamous philanderer and all-powerful god Jupiter. A prophecy was told that a nymph named Metis would bare a child even more powerful than Jupiter himself. When Jupiter found out that he had impregnated Metis he knew the child would never see the light of day. Jupiter decided that to get rid of Metis he would consume her and the unborn child. Yet Jupiter's love for Metis fostered inside of him and both his wisdom and affection nurtured the still growing child. With a yelp that shook the world Jupiter's head began to swell with pain and he begged Prometheus to split it open in hopes of relieving the pressure. From the fresh wound sprung a fully developed goddess, clad in armor and bearing weapons. This goddess was Minerva, wisdom personified. Minerva grew to be the favorite child of Jupiter and eventually his protector. She was the only person to ever earn the privilege of using Jupiter's lightning bolts.
The goddess Minerva was especially clever in times of war and competition; this is when she really got to use her intellectual powers. There are many legends that illustrate her prudence. When the Romans decided that the evil fiend Medusa must be eradicated, only Minerva was intelligent enough to devise a plan. Minerva now bears Medusa's head on her shield as a symbol of her triumph. When all hope was lost during the bloody Trojan War, Minerva shone a ray of light on the dark times. The goddess gave the warrior Odysseus the idea of building a giant horse where troops should be stored. This strategy officially ended the war, another victory for the prevailing goddess. Her triumphs are endless, her tactics, flawless.
Our name is the spirit of our team. It signifies our courage, insightfulness, and the organizational skills that we possess. Minerva is the goddess of wisdom, thought and mental strength. Her strategy in competition was to use her brain before her brawn. This state of mind has come to embody the Gold team. Minerva is not just our team name; it is a representation of the ideals that we have stood for throughout this week of activity. Minerva, a goddess, a myth, wisdom in the physical form, and a Color Week team that will achieve success in this competition of both mind and body.
THE   MARCH
(Tune: Unknown – If you know the tune, please get in touch!)
We know that blue is strong, but we're not scared
'Cause we've worked hard and we know we're prepared
We're gonna conquer blue
There's nothing they can doooooo 
VAMP: This color week is ours
I said its ours
YEAH ITS OURS!
Golden Minerva over blue
I said Minerva
OVER BLUE!
CHORUS:
Gold is strong
Gold is wise
Gold will take you by surprise
During the day and through the night
Gold will win
We'll fight fight fight
At the pool and also at the track
Minerva's spirit helped us lead the pack
'Cause we know that we're on top
We just can't be stooooooooooooped
VAMP: Gold team's #1
I said 1
YEAH #1
You can't stop Minerva
I said can't stop
MINERVA
CHORUS:
Gold is brave
Gold is tough
Gold won't stop when you've had enough
All week long our teams been bold
We've reigned supreme
GO GOLD GOLD GOLD!!!
THE ALMA MATER
Tune: "Time After Time" By Cindy Lauper
As the months begin to pass,
And I start to think of you
Caught up in summers of old.
Eagerly waiting for memories of new
Flashbacks of summer nights, almost left behind
My favorite memories, are when I'm with you.
As the clouds turn to gray,
And the rain washes away
The happiest days we've spent,
At our summer escape
You make my summer months, the best of the year
At Iroquois Springs, year after year.
CHORUS:
If you find yourself sad as the days fade away
Think of Blue and Gold
Even though we may soon move away
You'll always be our hearts
If you find yourself sad as the days fade away
Think of Blue and Gold
Even though we may soon move away
You'll always be our hearts
Counting days till summers bloom,
Dreaming of when we return
Looking for answers in the evening skies,
Reminiscing of me and you
My spirits, are revived, when I'm with you
You make the hands of time constantly subside.
Fate might have placed us here,
But friendships keep us near
Even though summers come and go,
The memories are very clear
When I, close my eyes, and I start to dream
There's no better place, then Iroquois Springs 
CHORUS:
If you find yourself sad as the days fade away
Think of Blue and Gold
Even though we may soon move away
You'll always be our hearts
If you find yourself sad as the days fade away
Think of Blue and Gold
Even though we may soon move away
You'll always be our hearts