Staff in the Spotlight
Getting to Know Kamil Chmura

Name: Kamil Chmura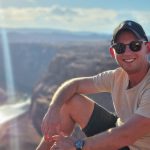 Where are you From: Krasnik, Poland
Years at Camp: 2
Position at Camp: Support Staff
Why did you decide to work at camp this summer?

I decided to be part of the Iroquois Springs crew again because last summer was incredible! I met a lot of people from around the world, spent a lot of time using the great facilities at the camp, and integrated with the staff.
What are you looking to learn from this summer?

This summer I would like to learn more about American culture and meet new people who will inspire me to be a more open-minded person and who will be able to make me laugh.
What do you think you can bring to camp this summer which will impact our campers?

Working as part of the kitchen staff is a challenge. I'm pretty sure the upcoming summer will show that we can be quicker, more hard-working, and serve meals for campers and staff in a great atmosphere!
What are you looking forward to most about this summer?
I can't wait to meet friends from last summer at camp! We had a great crew not only at work – I hope this summer will be more exciting!
Tell us an interesting fact/story about yourself!
A fun fact about me is that I'm laughing almost all the time and the easiest way to meet me during periods off is at the fitness center.