Staff in the Spotlight
Getting to Know Meaghan Kuhn

Name: MeaghanKuhn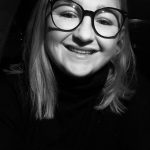 Where are you From: I'm from Cape Town, South Africa. It's a beautiful city on the coastline and home to Table Mountain, one of the 7 natural wonders of the world. We are a really culturally rich and diverse country with 11 national languages, and I'm extremely proud to be representing South Africa at camp this summer
Years at Camp: 1
Position at Camp: Cabin Specialist
Why did you decide to work at camp this summer?

Since I was little I've heard all about summer camps in America. In South Africa we don't really have many summer camps available to us. My curiosity about what camp would be like, coupled with my passion and love for working with young people, is the driving force behind me wanting to join the Iroquois Springs family this summer.
What are you looking to learn from this summer?

My favorite part about traveling and working abroad is being able to embrace myself in different cultures. My hope this summer is that I learn more about the American culture while also challenging myself to excel as a camp counselor. This will be my first time in a role like this, and having worked with children for all of my adult life I know that they teach you something new everyday. I can't wait to learn from the incredible children at camp!
What do you think you can bring to camp this summer which will impact our campers?

I consider myself a really bubbly, outgoing and creative person. I also believe that kindness should be at the center of everything we do as humans. I hope that I can bring my warm and happy spirit to camp and that I can come up with fun and creative ways to introduce myself and my culture to the campers. I hope that the campers leave the end of summer taking kindness and a joyful outlook wherever they go.
What are you looking forward to most about this summer?

I'm most looking forward to experiencing the camaraderie and sense of family that is created while at camp. I'm leaving behind everything I know to push my boundaries and experience something extraordinary. I can't wait to meet all the counselors and campers at Iroquois Springs!
Tell us an interesting fact/story about yourself!

In 2018 I was fortunate enough to go shark cage diving off the coast of South Africa with Great White Sharks!