Theia Blue 2021
Team Leaders
Field Marshalls:
Manny Broadway
Carson Bennett
Julian Chambers
Hannah Fouladi
Albert Kim
Gabby Krumper
Dylan Randolph
Jordyn Lieberman
Will Walter
Sam Zaintz
Rope Burn Leaders

Charlie Zirlin
Mallory Liffman
Rope Burn Builders


Peter Ballas
Brody Scherr
Emma Hasson
Ali Koster
Molly Weiss
Sing Coordinators

Remy Alperstein
Olivia Herman
Senior Basketball Coach

Charlie Kaminsky
Artistic Directors

Zack Schteingart
Maren Shapero
Jaiden Hirsch
Five Star Generals

Dylan D'Giff
Rosie Potash
Alexandra Winitch
Generals


Jake Kaplan
Alexia Cicco
Jessica Fitzmaurice
Isabel Levine

Lieutenant Generals

Evan Greenleigh
Dani Gold
Alexander Stillman
Willa Rothschild
Ryan Wenczl
Emma Verch

Majors

Zachary Hirsch
Eden Baer
Alex Lewis
Saige Hasson

Kettle Boil (Apache):

Luke Betlow
Sophie Apple
Ethan Weinberg
Bella Plaut
Captains
Evan Goldstein
Harper Taheri
Noa Herman
Reid Buckley
The Banner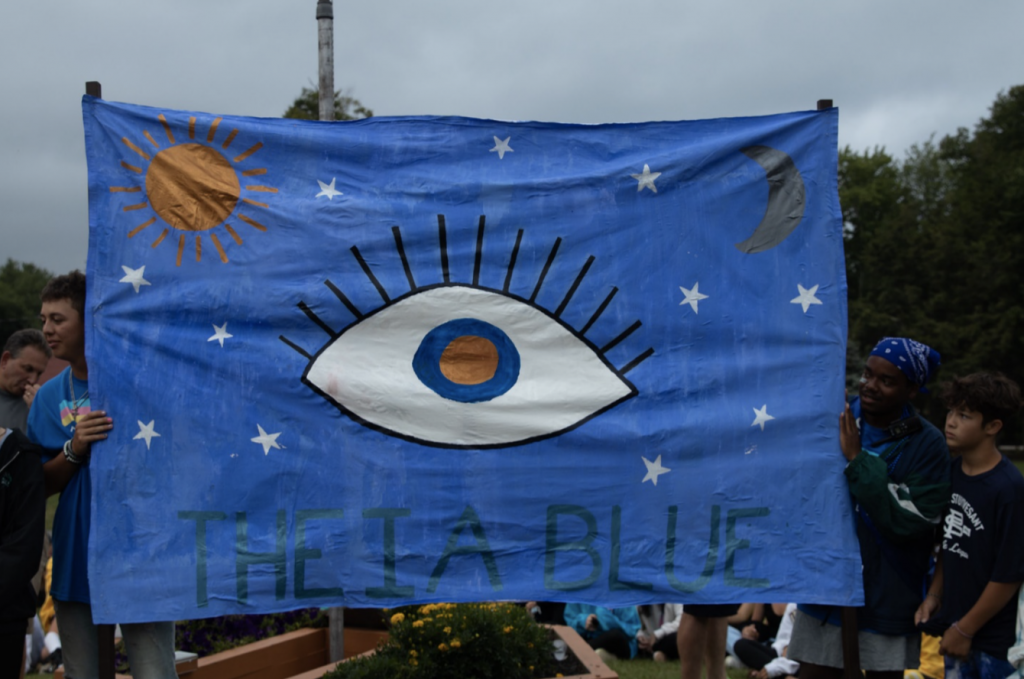 Field Marshalls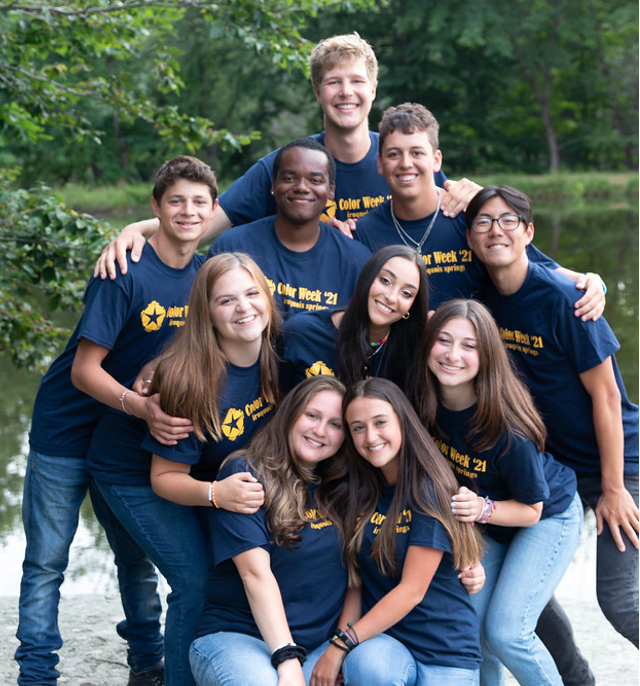 Theia Blue Rope Burn Team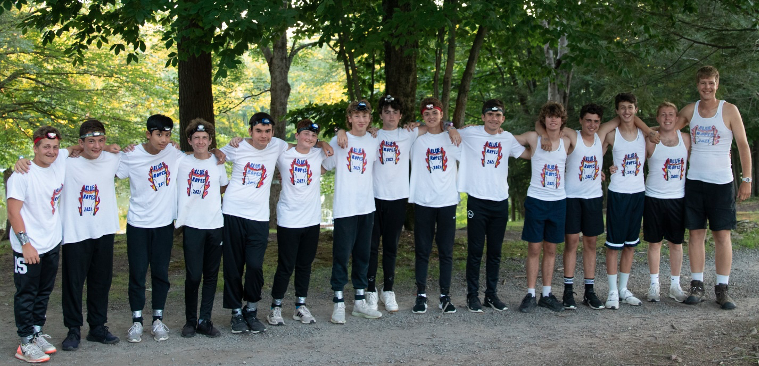 The Standard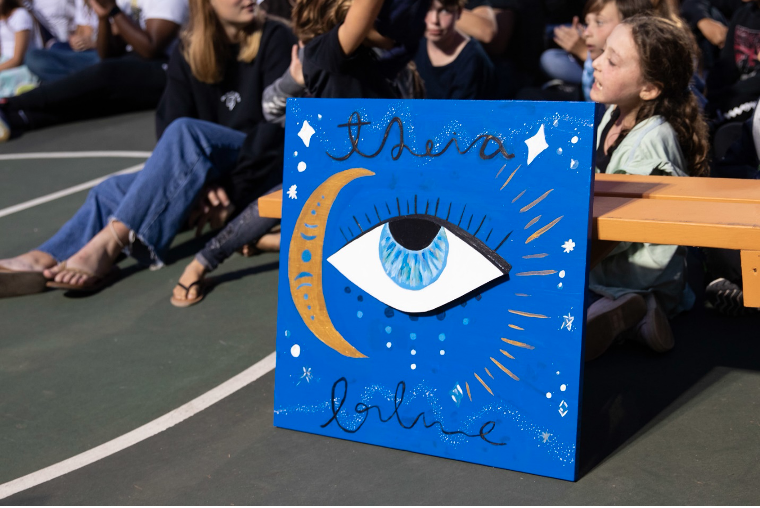 The Poem
Theia Blue Poem
Written by Bella R, Alexia C & Allison L
(L) Theia has been granted the bright blue sky and has turned it into a starry night with the golden ally
(A) Using her powers to protect from the evil eye, as she, the goddess, watches over the blue night sky.
(B) Our goddess Olympia is what makes you shine bright, for without the gods and goddesses, who would bring you together tonight?
(L) Tonight the gold stars twinkle as the daytime dwindles
(A) The legacy of the Blue and Gold is treasured within the bonds we've made, our love cannot be measured
(B) Tonight as we stand here, our teams unite. Uniting as one, our connections grow stronger. Together.
The Comic Song
Theia Blue Comic Song 2021
(To The Tune of Love Story by Taylor Swift)
We pulled up with masks and nalgenes
Six feet apart until our tests come back clean
Waiting there, (2,3,4,1) on soccer hill while counselors stare (2,3,4)
Say goodbye to campers and counselors
See girls side getting smaller and smaller
Where are the kids? (1,2,3,4)
What happened to "no empty beds"? (2,3,4)
Now it's time for lunch, Bubba's shouting in Spanish
Jacob Maloney just served me a sandwich
I was crying in the lunch line
Where did the soup guy go? (2,3,4)
And I said
Eric, we're sorry: why did Josh and Joey leave?             
Bet you're feeling better, now that you got a walkie
Staff getting younger, Amanda Kline is 17
Called Josh Feinstein help B7 please (1,2)
CIT boys missed their buses
Now instead we have CIT pluses, where are they?
Came for 4 weeks only 2 remain (2,3,4,1)
Food trucks pull up to the new field
And the GL's said "Don't go near the fitness center"
All the campers started walking out Where did they all go? (1)
And I said
Bubba please tell us what's up with the ninja course College day marches, why was Eli on a horse?
You wipe the table, I'll write a fuzzy
Wes your shaved head scares G123 
Supers stop jumping on the stage   
Got Simon's Instagram but we'll never check his page
Color run party, let's dance on the fieldhouse grave                                                           
That's our comic song, sorry if we misbehaved.
1,2,3 GO BLUE! (right arm)
The March
Theia Blue March 2021
To the tune of Want To Want Me by Jason Derulo
Verse 1:
1,2,3,4
We are here to defeat (1, 2)
Gold team watch out, Theia blues gonna have you beat (1, 2)
We'll win it all, watch you fall, we're the strongest team (1, 2)
Hear our spirit loud and proud, making history (1, 2)
Our legacy, yeah (1)
4 days to compete (1, 2)
Winning apache, marble call, and the track meet (1, 2)
We'll give our all, standing tall, full of energy (1, 2)
We know that golden Olympia can't deny (1, 2) deny
Chorus:
1,2,3,4
Hey (1) Theia's here
We're coming for you (1, 2)
Hear us cheer
Gold, watch us shine through (1, 2)
Rising up cause blue team won't stop (1) till we're on top (1)
Taking victory (1)
Gold (1) watch your back
We're not stepping down (1, 2)
We will attack (1)
You can't take our crown (1, 2)
Rising up cause blue team won't stop (1) till we're on top (1)
Taking victory
Verse 2:
1, 2, 3, 4
Standing tonight (1, 2)
With all our power, strength, and pride
This is our fight (1, 2)
Olympia can't compete, we will defeat (1, 2)
Making history, yeah
Chorus:
1,2
Hey (1) Theia's here
We're coming for you (1, 2)
Hear us cheer
Gold, watch us shine through (1, 2)
Rising up cause blue team won't stop (1) till we're on top (1)
Taking victory (1)
Gold (1) watch your back
We're not stepping down (1, 2)
We will attack (1)
You can't take our crown (1, 2)
Rising up cause blue team won't stop (1) till we're on top (1)
Taking victory
1,2,3
Go Blue! (right arm)
The Plaque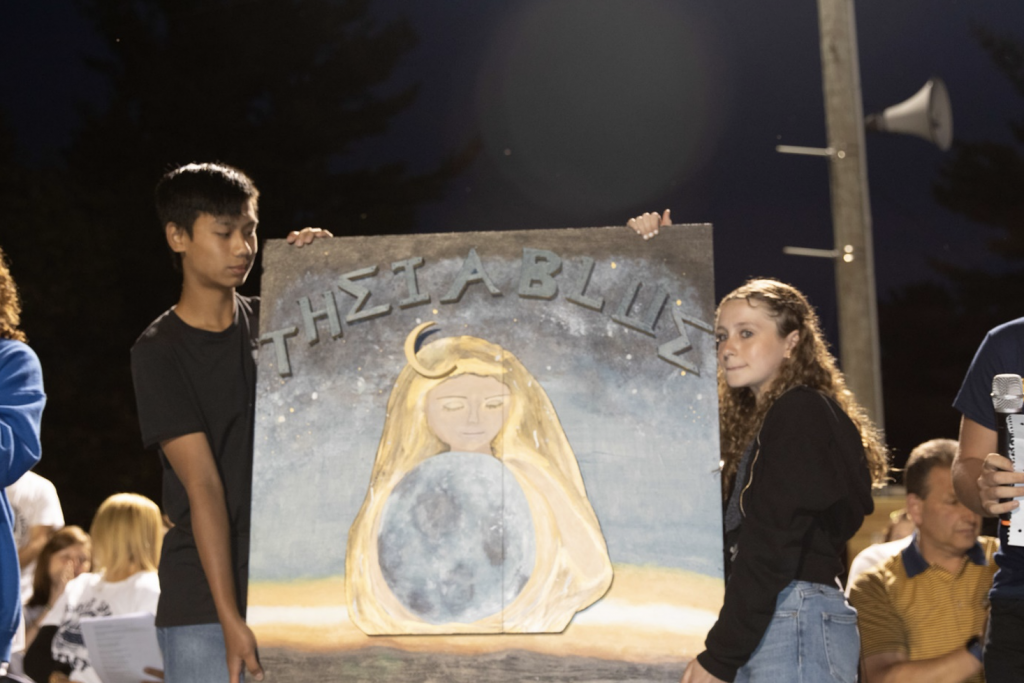 The Alma Mater
Theia Blue 2021 Alma Mater

To the tune of "If I Could Fly" by One Direction

Verse 1:

Here we stand (1,2)

Longing for one more night with you (1, 2)

Hand in hand (1, 2)

Memories of brighter days shine through (1, 2, 3, 4)

Pre-chorus:

Pull me close as time fades away (1), never wanna let go (1)

So let's hold onto this moment (1, 2, 3)

Chorus:

You have changed me (1) imprinted my heart (1)

Now I can see (1) the light when it's dark (1)

I'm missing half of me (1) when we're apart (1)

I'll always come home to where we have grown (1, 2, 3, 4)

Verse 2:

When seasons change (1, 2)

Thinking of you keeps me safe (1, 2)

And as we part (1, 2) the blue and gold remind us who we are (1, 2, 3, 4)

Pre-chorus:

Taking in every last second (1), as the tears fall down (1) So let's hold onto this moment (1, 2, 3)

Chorus:

You have changed me (1) imprinted my heart (1)

Now I can see (1) the light when it's dark (1)

I'm missing half of me (1) when we're apart (1)

I'll always come home to where we have grown (1, 2, 3, 4)

Bridge:

[Lower Camp]: Before we say our goodbyes [Upper Camp]: Let's rewind (1) let's rewind (1) [Lower Camp]: Standing with you one last time [Upper Camp]: Please rewind (1) please rewind (1) [All]: Your heart has grown here with mine (1)

Can we rewind

No one said it'd be this hard (1, 2)

Chorus:

Delicately: You have changed me (1) imprinted my heart (1)

Now I can see (1) the light when it's dark (1)

Powerfully: I'm missing half of me (1) when we're apart (1)

Slow and powerful: I'll always come home to where we have grown (1, 2, 3, 4)

So thank you gold and blue (1) I know I'm home with you