Staff in the Spotlight
Getting to Know Isabel Pergande
Name: Isabel Pergande
Where are you from: Lexington, KY
Years at I.S.: 1
Why did you decide to work at camp this summer?
I decided to work at camp because I wanted to try something new and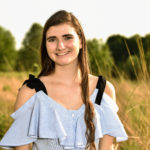 meet new people. I also wanted to do something that is meaningful where I can positively impact others. I love the outdoors and there is no better way to spend summer break than outside, surrounded by good people and nature, having fun!
What are you looking to learn this summer from being a counselor?
I look forward to interacting with different personalities, thinking on my feet, and being creative. Camp is a great way to learn more about yourself and gain skills through real-life experience! Overall, I am excited to grow as a person throughout the summer.  
How are you looking to impact your children this summer?
I want to be a leader, friend, and role model to campers. I hope to provide guidance, instill confidence, and encourage positivity among all campers!
How are you feeling about the summer?  
Although I am a little nervous, I am mostly excited and ready to start! I cannot wait to see what this summer has in store for everyone!  
Tell us an interesting fact/story about yourself?
I am an avid supporter of the US Women's National Soccer Team. I have watched them play live three times and I cannot wait to cheer them on in the World Cup this summer!