Staff in the Spotlight
Getting to Know Tommy Chason

Name: Tommy Chason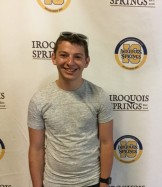 Where are you from: Rye Brook, NY
Years at I.S.: 2 (as a staff member)

What make Iroquois Springs a special place?
It is the people that work at camp that make Iroquois Springs special.
Why should a college student choose to work at camp?
College students are young adults, so working at camp gives them the opportunity to be more responsible, follow routines and ultimately care for others rather than just themselves. It is also just an amazing experience to work at a camp!
What is your goal for the upcoming summer?
I'm just looking to make the most of not being in school for the summer and have another great experience in my second home.
If you could eat one food for the rest of your life, what would it be?Potatoes: There are so many different ways to make them!
If you could choose a superpower, what would it be?
A real life Dr. Doolittle – I want to be able to talk to animals!