Staff in the Spotlight
Getting to Know William Phan
Name: William Phan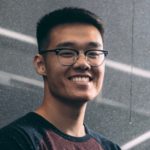 Where are you from:
Mississauga, Ontario, Canada
Years at I.S.: 2
What is your favorite memory from the summer?
Having the opportunity to meet new people from all over the world. I also enjoyed the all camp events like College Days and Color Week where everyone was really involved and competing hard to win in a friendly environment.
What did you learn from your experience last summer?
Since returning from camp I have realized that I want to become a teacher. Spending 6-weeks with children taught me a lot about myself and what my passions are.
What are you looking forward to most about this summer?
I can't wait to be back at camp and have another amazing summer. I want to create new memories with all of the returning staff as well as with all of the new staff too.
What advice do you have for staff who are going to be at Iroquois Springs for the first time this summer?
Camp is truly what you make of it. If you put 100% effort into your children and all of the activities on offer you will have an amazing summer where you will impact the kids and the kids will impact you.
As a returner, how are you looking to grow this summer.
This summer I am looking to challenge myself more and put myself out there more and take healthy risks to help me grow as person.