Activities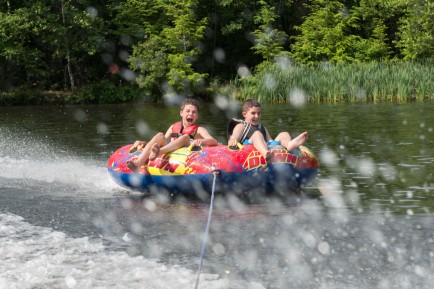 The program at Iroquois Springs is power-packed and diverse. Campers participate in a wide variety of activities, many of which they may never have tried before! In all our activities, the instruction and supervision is hands-on. Campers are encouraged to try everything, give it their best shot and have a lot of fun doing it! This allows each camper to progress and improve their skill development at their own pace, giving him or her self-confidence and a sense of accomplishment, while allowing for spontaneity.
Our comprehensive program consists of land and water sports, outdoor adventure, creative arts, media, performing arts, horseback riding and fitness.
Land Sports
Archery
Baseball
Basketball
Fencing
Gymnastics
Lacrosse
Hockey / Roller-Hockey
Flag Football
Bubble Soccer
Rollerblading
Soccer
Tennis
Volleyball
Skateboarding
Softball
Ga-Ga
Dodgeball
Euro-Handball
Ultimate Frisbee
Learn More!
Water Sports
Waterskiing
Wake-boarding
Tubing
Knee-boarding
Kayaking
Canoeing
Fishing
Paddle Boards
Aqua Playground
Learn More!
Horseback Riding (English Style)
Corral Riding
Trail Rides
All Levels of Riders
Creative Arts
Arts & Crafts
Ceramics
Pottery
Jewelry
Silversmithing
Woodworking
Rocketry
Wearable Art
Heat / Hot Press
Air-Brushing
You Build It
Cooking
Learn More!
Media
Desktop Publishing
Apple Digital Media Software
iMovie, iPhoto, Final Cut Pro
Digital Photography
Digital Video Editing
Yearbook
Learn More!
Performing Arts
Theatre
Acting & Directing
Technical Theatre
Costuming
Dance
Garage Rock Band
Electric & Bass Guitar
Drums
Piano / Keyboards
Learn More!
Challenge Course & Outdoor Adventure
High Elements Ropes Course
Low Elements & Initiatives
Canoe Trips on Delaware River
Climbing Tower
Zip-Lines
Mountain Biking
Overnight Camping Trips
Outdoor Cooking
Survival Skills
Learn More!
Fitness
Fitness & Weight Training
Spin / Cycling
Pilates & Yoga
Circuit Training
Zumba
Speed & Agility Training
Aerobics
Group Exercise Classes