Wellness & Nutrition
Dining Hall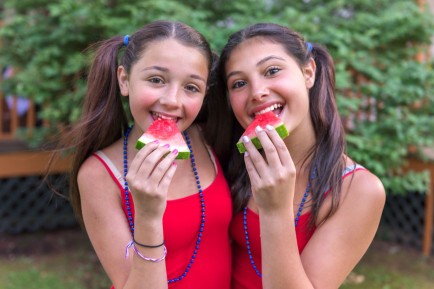 Our spacious, newly renovated kitchen and dining hall is where we gather three times a day to eat and connect as a community. Campers and counselors sit with their group at round tables, dining on family style served meals. This spirited family environment is a perfect place to unite, eat and refuel for the day.
Campers are given choices, and counselors are present to encourage and model healthy eating habits. Our head chef prepares daily homemade fresh soup and a great variety of wholesome kid-friendly meals that appeal to all appetites. We provide a fresh salad bar at lunch and dinner, filled with vegetables, fruits and grains, as well as bagels and yogurt at breakfast. We accommodate almost every dietary need, including, gluten free, dairy free, vegetarian, and provide a "peanut aware" environment.
In addition to meal time, campers have a mid-afternoon snack and evening snack at our canteen. We know the value of coming together as a family to share meal time and having delicious healthy options to choose from is important to parents and camper alike.
Here is a sample of our meal offerings:
At every breakfast we have:
Juice (Orange/Apple)
Milk (Skim and 2%)
Bagels with butter and cream cheese
Yogurt
Hard Boiled Eggs
Granola
Hot & Cold Cereal
Fresh Fruit
Our main course varies from day to day. Selections may include:
Pancakes – (Plain, Banana, Blueberry, Chocolate Chip)
Scrambled Eggs
French Toast and French Toast Sticks
Omelets
Waffles
Assorted Pastries
At every lunch we offer:
Soup Du Jour
Salad Bar with 20+ options
Grilled Cheese
Bagels
Fresh Fruit
Several times each week we offer hot dogs hot off the grill
Our main lunch dishes are different each day. Selections may include:
Make-Your-Own Subs
Grilled Chicken
Tacos and Burritos
Chicken Patties
Pizza
Macaroni and Cheese
Chicken Nuggets
Quesadillas
Meatball Subs
Chicken Caesar Salad
At every dinner we offer:
Salad Bar with 20+ options
Pasta Bar with marinara sauce
Fresh Fruit
Fresh Dessert
Our main course varies from day to day. Selections may include:
Baked Chicken
Chicken Tenders
Pizza (Cheese & Vegetable)
Chicken Wings
London Broil Steak
Oven-Roasted Turkey
Pizza
Beef Brisket
Chicken Stir-Fry with Eggs Rolls
Beef Short Ribs
Weekly Cookouts w/ hamburgers, hot dogs, vegetarian burgers and BBQ chicken
Wellness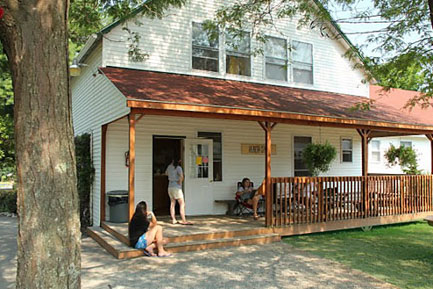 Our modern, well equipped health center is staffed with six registered nurses, a health center administrator and an on-site doctor 24/7, throughout the camp season. The campus is located less than 1 mile from a modern urgent care facility which is able to accommodate a majority of our off-site medical needs. The health center is air conditioned and has enough space to accommodate campers who may need an overnight stay. These comfortable private spaces are equipped with televisions, and our nurturing medical staff provides the best care to all campers visiting the health center.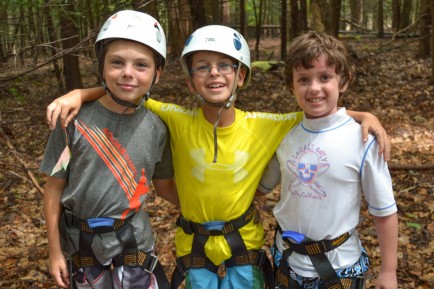 We use a third party company to pre-package medications for campers who take prescription medication during their stay at camp. This method is the safest and most efficient way for our health center to administer medications. Medications are given in a discreet way during mealtimes and evenings, and are administered only by our nursing staff. All medications, both prescription and non-prescription are stored in the health center, keeping camper bunks safe for everyone.