2004: Golden Nebula
FIELD MARSHALS:
Rochelle Simon
Allyson Koplin
Jerry Wojtech
Shane Sutton
ROPE BURN LEADER:
Ethan Greenberg
SING COORDINATOR:
Deena Rothman
GENERALS:
Lily Brown
Elyse Carlucci
Korey Rose
Brian Harris
Samuel Shapiro
LIEUTENANT GENERALS:
Nicole Klein
Stephanie Klemperer
Alex Goldstein
Daniel Gruskin
MAJORS:
Jenna Wallshein
Teddi Silverberg
Brian Kelly
Phillip Cohn
CAPTAINS:
MacKenzie Frand
Emily Hyman
Alec Spergel
Daniel Kadish
THE BANNER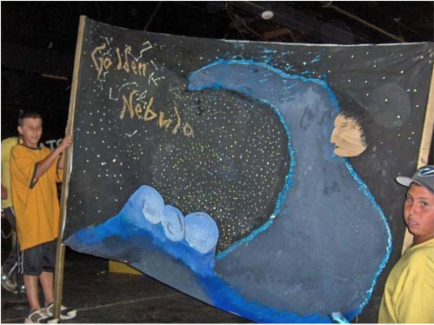 THE PLAQUE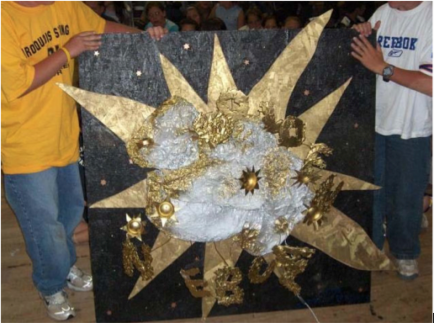 THE POEM

"The Power of Many"
One star shone alone in the darkened sky
A child sits staring up, silently wishing
Suddenly, the sky explodes with golden stars
The nebula is now born
One star may work well alone
But as a team the sky burst to life
Golden shots across the sky, reflect in the eyes of the child
A magnificent display of teamwork
Energy of light, a self contained source
The power and strength displayed in the gold
Never will the energy fade to black
Always above the world on display
The child reaches up towards the golden sky
And is carried off into the light of victory
THE ESSAY

If an Ibis squawks in the pitch black, vacuous hollows of space and there is no one there to hear it, does it make a sound? The answer is no, sound cannot travel .in space as there is no medium through which it could travel. In addition, there is no air for the Ibis to breathe, nor is there warmth for the Ibis to live. Only infinite emptiness awaits the lonely traveler in our skies. The darkness of space is broken by the magnificent luminescence of the Golden Nebula. Sweeping across the galaxy, raining lustrous beams on everything in its presence and making all feel as through they themselves are golden. Billowing plumes of bright gold spill across the galaxy carrying stars in their midst like so many precious sparkling gems.
The Nebula is not a single unit. Its majesty is created by the billions of particles working together to form the whole. Free floating atoms congregate to form this thing of beauty and act as a team to impress and to inspire awe to all those fortunate enough to lay eyes on it. Each single piece must do its share and cooperate in order to create this magnificent canvas in the stars.
As time passes, the pieces of the Golden Nebula combine under the pressure of their own weight. They coalesce to form something greater than the sum of their parts and become a brilliant star; lasting for billions of years and burning with a dazzling intensity. The Golden Nebula team has become this dazzling star, created from members of Iroquois Springs. Working together we will shine brightly forever!
Golden Nebula relies on each member for support, and combines our talent and cooperation to form one cohesive and dominant team. Golden Nebula shall come together to form the brightest star in the galaxy, collapsing upon each other to gather strength and passion for competition during Color Week: reflecting our promise to be unified, and to be unsurpassed by Ibis Blue. This is why once more, Golden Nebula will reign supreme in 2004!
THE MARCH
(Melody: From "The Lion King", I Just Can't Wait to be King)
We are Golden Nebula
So Ibis watch your back
Standing tall with all our strength
We're ready to attack We've dominated all four days
Like no team has before
We're steppin' up, you're backin' down
We want it even MORE
Then any other team in history..
Golden Nebula will reign supreme!
Search the galaxy
All through outer space
Golden Nebula
Is in 1st place
Better not forget what you've been told..
Color Week is all about Gold!
Staff: First at the pool, then at the track
The Gold Team's conquered all
Upper Camp: We've used our might and all our skill to make the Blue team fall
With teamwork we have taken charge
And dominated Blue
Lower Camp: We've competed
We've defeated
We have dominated YOU!
Better not forget what you've been told..
Color Week is all about Gold!
Better not forget what you've been told..
Color Week is all about… GOLD!
THE ALMA MATER
(Original Tune)
Teardrops gather
On the pavement
Filled with love and longing
Its getting colder
I feel the chills I'm all alone and I am
Dreaming..
Of the times
We've shared together
And the times we've yet to share
The times you've held me
And said you cared
Without speaking a single word
And I cry
Now that summer's gone by
And I'm feeling more alone
Then I ever have, before
CHORUS:
The wind brushes my face so gently
Thinking back on our final goodbyes
I'm kept warm, by the memories
Sitting silent
I close my eyes
I take a deep breath and exhale
Now I can feel you
Sitting beside me
Thinking the things that I am
Iroquois Springs
Has found a place within my heart
And I'm feeling more alone
Until I return, again
CHORUS:
The wind brushes my face so gently
Thinking back on our final goodbyes
I'm kept warm, by the memories
I miss the times
You made me smile
And think of
Iroquois Springs
My second home Blue and Gold
Girls: Blue and Gold
Boys: Blue and Gold
Iroquois Springs
My home
Open my eyes
And look around me
I see your face and I'm home again
Solo Boy: I'm not alone
Solo Girl: I'm not alone
Duet: We are together
CHORUS:
The wind brushes my face so gently
Thinking back on our final goodbyes
I'm kept warm, by the memories