Important Links
For the convenience of our camp families, you will find links to important information that  you will need in preparation for camp. Please visit these websites that have resources that you may find useful.
The parent handbook is a useful resource for camp families to find answers and information to some basic camp guidelines and procedures.
You can also refer to the Parent Dashboard where you will be able to complete all camp forms, check invoices, update contact information and more.

Our main focus is to facilitate the medication-dispensing process at Camps and Boarding Schools, while maintaining the safety of your children our top priority.
Our paperless on-line registration is easy to use. Furthermore, Pack My Rx works exclusively with Direct Meds of Florida, an independent retail pharmacy that was established in 2009. By working with one pharmacy, side by side, we optimize the process of registering and dispensing medication, making the start- to-finish process organized and simple.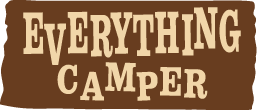 Get all of your Iroquois Springs camp gear including T-shirts, sweatshirts, sweatpants, tank tops, baseball hats, shorts, athletic clothing, and all of the coolest bunk gear and decorations you'll need this summer. Plus get a list of all of the stuff you'll need for camp!
Camp provides a regional baggage service where Iroquois Springs trucks and staff will meet at various locations (outlined on baggage service form) and assist you in getting your baggage from your car, to our truck and safely to camp. This is a REGIONAL service and not door-to-door, available round-trip or one-way. Camp baggage service always comes back the same day your camper departs camp, no waiting days for baggage to arrive.
Camp Trucking provides door-to-door baggage service for all of your camp luggage transportation needs.  Should you decide not to use Iroquois Springs Baggage Service (regional pick-up), Camp Trucking provides a convenient service door-to-door.
If you are located in a non-camp trucking or non-Iroquois Springs Baggage service area and you will be using FedEx, UPS, or DHL to get your child's belongings to camp, Ship Camps provides a hastle-free door-to-door service with real-time tracking.


We have partnered with Mabel's Labels, a company with all types of labels that are colorful, indestructible and fun! With a special 'Camp Pack' available and also a larger 'Big Combo', your camper can label absolutely everything!
We have partnered with Label Daddy for a special 25% savings for all Iroquois Springs families!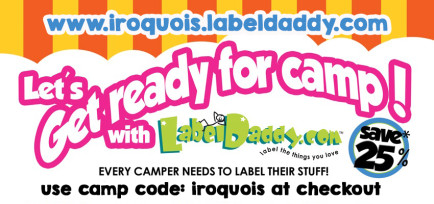 Don't forget to label all your campers clothing.
Promo Code for 25% Savings:  IROQUOIS

Fairy Tales Hair Care makes all natural, organic hair care products for children. Their products are loaded with vitamins, minerals, herbs and pure oils, which help repel lice and other insects from the hair.
Promo Code for 15% Savings:  IROQUOISSPRINGS
Lice Clinics offers a convenient and confidential pre-camp and post-camp screening. Additonally, parents and campers will be given tips to prevent lice transmission. Let's work together to avoid the spread of lice at camp!
Locations: Garden City, Ronkonkoma, and White Plains, New York

Promo Code for 10% Savings:  CAMP IROQUOIS SPRINGS

The Name-Dropper self-inking laundry marking stamp has helped families mark their clothes with permanent ink. Your name can be stamped on all of your clothing and laundry with indelible ink in just minutes!
Promo code for 15% Savings: IRQS21
Introducing the Mighty Vibe, an iPod shuffle-like device for Spotify and Amazon Music.  It has no screen and can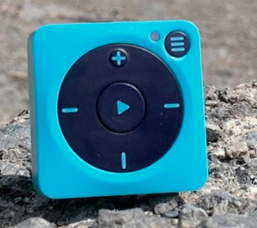 download over 1000 tracks from Spotify and Amazon Music and supports music, albums, audiobooks and podcasts. The device requires a Spotify premium account, $9.99 / month or $14.99 per month for a family membership, both of which have a free 30 day trial or an Amazon Music account.
The Mighty Vibe must reconnect to Spotify every 30 days to verify there is an active paid subscription.  On visiting day, we offer an open wifi network that you can use to reauthorize the Mighty device. So, all you would have to do is make sure the mighty is synced up right before camp starts and then re-sync it again on visiting day.
Promo code for 10% Savings: CampIroquoisSprings10