2006: Mississippi Blue
FIELD MARSHALS:
Meighan KELLY
Heather GREER
Emily THOMPSON
Bill SPRUYETTE
John MATTHEWS
Simon WADE
ROPE BURN LEADER:
Ryan Hochler
SING COORDINATOR:
Marissa Jambor
GENERALS:
Sarah Silverhardt
Lindsay Goldberg
Melissa Mann
Michael Facci
Alex Handler
Andrew Lake
LIEUTENANT GENERALS:
Adriana Kynast
Dara Frank
Hunter Abrams
Matthew Maurer
MAJORS:
Tori Kroll
Holly Hargreaves
Justin Diamond
Brandon Hougnau
CAPTAINS:
Lauren Scheer
Jillian Biener
Zachary Birzon
Jonathan Bellamente
THE STANDARD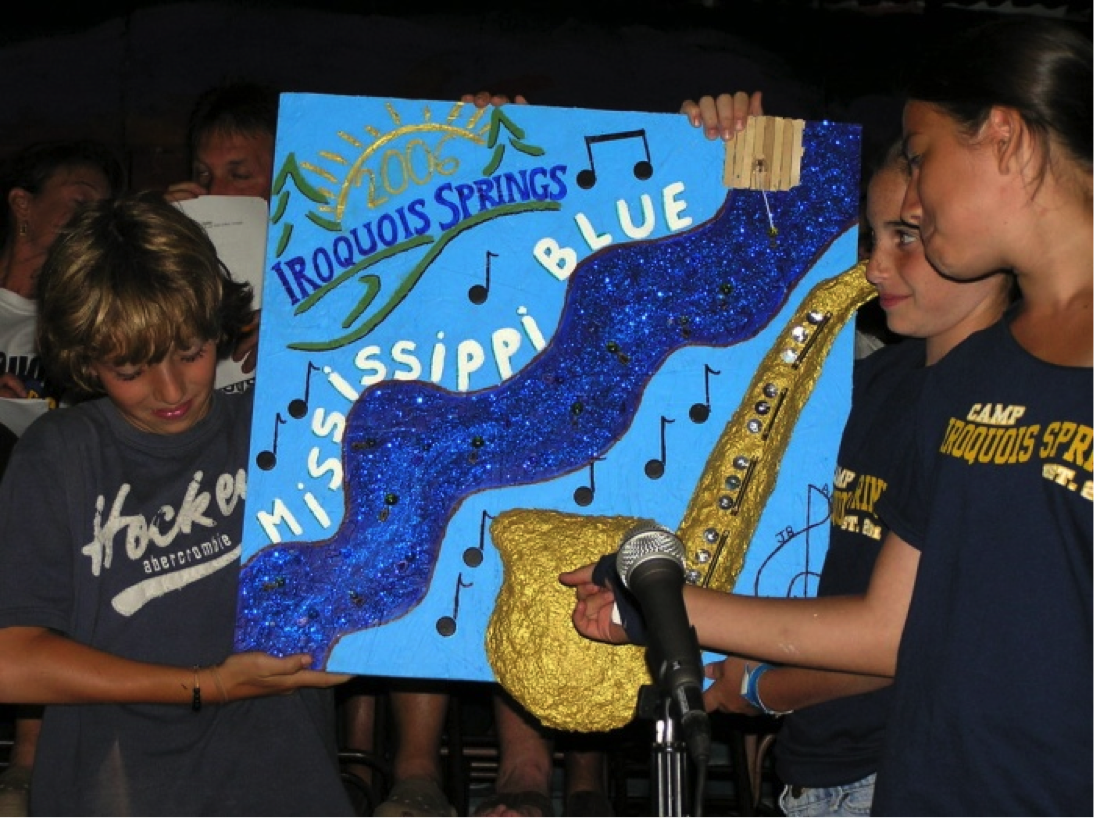 THE PLAQUE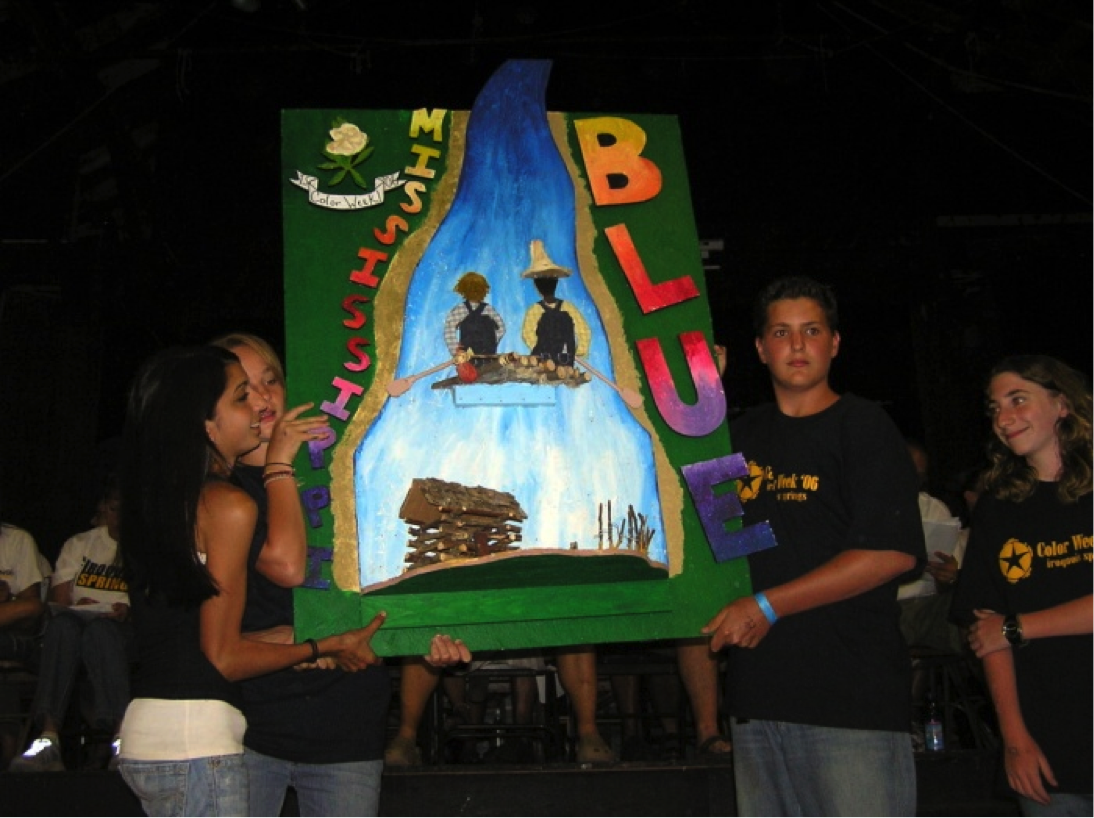 THE POEM
The Mississippi River, so tranquil and clear
Brings peace and unity to the far and near
It continually flows, through and through
Endless, timeless, like the Mississippi Blue
Its entity is the heart of mankind
Where wildlife wanders and peace is on the mind
Up and down the bank, the water's depth will change
Glistening, shining water, waves always rearrange
The clear blue water offers a chance to see what's real
Gold team you surround us, a presence we can feel
We know you stand beside us, looking in the deep
Reflections joined and binding – something we'll always keep
Together we are one: a team with goals and dreams
Mississippi blue, ready, splitting at the seams
We are strong – a team with no limits and no fears
Together for four days, but we feel that it's been years
Here we stand in front of you – we won't be second best
See, we are dynamic – we can handle any test
Tonight we can spell victory B-L-U-E!
Mississippi Moon would you keep on shinin' on me
THE ESSAY
In his iconic novel, Huckleberry Finn, Mark Twain immortalized the Mississippi River as a symbol of escape and freedom. The main characters, Huck and Jim leave their home behind and journey away from abusive family members and rampant racism. Like the Mississippi River, Iroquois Springs provides a haven away from the pressures and realities of the outside world. When floating down the Mississippi River, isolated from the land by protective waters, there is an inspiring tranquility.
The river, however, is not always calm. There are elements such as rapids, rocks and strong currents that hide below the serene surface. These challenges add to the spirit of the river, as well as to the strength and character of those who overcome them. Like the river, Color Week challenges those involved mentally and physically. The team who demonstrates the most rigor, determination and strength will ultimately prevail.
On a surface level, Color Week appears to divide the camp. The Mississippi is also divisive because it splits the United States into the East and the West. But Color Week works as a uniting force more than anything, bringing together boys and girls of different ages from different backgrounds to work towards on goal. Similarly, the Mississippi River connects people and transcends borders. As the Mississippi River unites America, the camp and Color Week unite us.
Color Week brings us together through a variety of activities versatility is key. It takes athleticism, artistic ability, team spirit and dedication to excel. The Mississippi River is as strong as it is big because of all the attributers that feed unto it.
Every drop of the Mississippi River is imbued with a legacy, a history and a love. The ripples tell stories of people who came before us. The Mississippi River has a unique culture; the land and the people culminate an overall spirit and power that is Mississippi Blue.
THE MARCH
(Melody: Fountains of Wayne, "Stacy's Mom" )
Mississippi Blue has got it goin' on (4x)
Blue team will dominate this color week, dominate
Gold will fall at the track and at the pool, they will fall
Ain't no muscle gonna interrupt blue's reign, blue's reign
We're here tonight, this is Mississippi's game, blue's game
Blue's gonna bring it home rockin' gold tonight
Our team's got the power, we're using all our might
CHORUS:
Osiris Gold you better watch your back
The blue team's here and we're ready to attack
Blue team's on the top, yeah gold we can't be stopped
We know it might be sad but, gold your team is gonna drop
Mississippi Blue has got it goin' on (2x)
Blue is gonna take home the win tonight, take the win
Gold will fade, but we will stay 'til the end, 'til the end
We can tell you're impressed by the way you stare, way you stare
For the number one, it's a spot we won't share, we won't share
At the end of the night the gold will see
That Mississippi will be the owner of victory
CHORUS:
Osiris Gold you better watch your back
The blue team's here and we're ready to attack
Blue team's on the top, yeah gold we can't be stopped
We know it might be sad but, gold your team is gonna drop
Osiris Gold you better watch your back
The blue team's here and we're ready to attack
Blue team's on the top, yeah gold we can't be stopped
We know it might be sad but … oh oh
Blue team's here oh oh
Mississippi Blue oh oh
Blue team's on the top yea gold we can't be stopped
We know it might be sad but, gold your team is gonna stop.
THE ALMA MATER
(Melody: Evan and Jaron, "The Distance")
The summer's almost over
With every passing day
Goodbyes are sadly nearing
As time here fades away
Thinking of the memories
Of the times we've laughed and cried
Each one brings me closer to
The friends right by my side
CHORUS:
Camp will never leave us
Our blood runs blue and gold
Summer after summer
We come back to our home
A season filled with memories
Kept in our hearts
Iroquois Springs, we'll never part
Camp will never leave us
The skies today are gloomy
As all the bags are packed
Now there's only photographs
To relive the summer's past
The summer's past
CHORUS:
Camp will never us
Our blood runs blue and gold
Summer after summer
We come back to our home
A season filled with memories
Kept in our hearts
Iroquois Springs, we'll never part
SOLO:
Late at night you're in my dreams
To be by your side, I'd do anything
Camp will never leave me
BOYS: We've grown up together
GIRLS: And now the chapter ends
ALL: Until I see your face again
CHORUS:
Camp will never leave us
Our blood runs blue and gold
Summer after summer
We come back to our home
A season filled with memories
Kept in our hearts
Iroquois Springs, we'll never part
Camp will never leave us