2009: Golden Eclipse
FIELD MARSHALS
Paul Titley
Ethan Greenberg
Matt Heitzer
Mark Krizmanich
Sean Kelly
Starr Lederer
Kendra DeMicco
Miriam Upshall
Polly Doherty
Allison Cousins
FIVE STAR GENERALS
Spencer Hoddeson
Noah Leader
Marcy Cohen
Rachel Salamone
GENERALS
Jeff Rutz
Sam Sanders
Jesse Cohen
Lexi Lisser
Danielle Walkerwicz
Adrienne Stuart
LIEUTENANT GENERALS
Michael Hirsch
Shane Rose
Jamie Brensilber
Jessica Miller
ARTISTIC DIRECTORS
Stephanie Schiff
Matthew Morris
ROPE BURN LEADER
Zachary Birzon
SING COORDINATOR
Melanie Kellstrom
MAJORS
Derrick Ash
Daniel Berrick
Ryane Lake
Allison Krumper
CAPTAINS
Jake Milner
Bob Lesser
Jordyn Cohen
Cayla Bamberger
THE POEM
By Jeremy Martin
Our burning sun is a star not seen,
Lost in the space without shine;
It has disappeared as the sky blackens.
The moon has moved into its prime,
As it brightly appears, creating perfect darkness.
The sun has been eclipsed;
The once illuminated and tranquil moon calmly drapes the sun.
Though without a sun for only moments,
An erratic schedule has begun and will shortly end.
The orbits have crossed the same plane of space,
And there are still lingering memories of perfect darkness,
Fading away.
THE ESSAY
Imagine being engulfed in an eclipse. Maybe it's a lunar eclipse, where the moon is glazed in shades of golden orange that could burn the palest of cheeks. Or even a solar eclipse, where the sun is completely covered by the moon and all that can be seen are the rays of the sun trying to burst from the moons seams.
This occurrence is nearly impossible; as it is rarely seen. For an eclipse can only be created when the orbits of the sun, the moon, and the earth simultaneously align. This illuminating event leaves viewers struck with amazement and awe, just as Golden Eclipse has captivated all of camp this week.
Golden Eclipse draws its name from the blazing golden light, emitted from each and every eclipse. The source of our power is formed from the strong golden sun and the deep blue moon, which align during each eclipse. This symbolizes the return of Color Week at Iroquois Springs, and the unification of the Blue and Gold even throughout the stiff competition.
Ironically, a lunar eclipse will occur tomorrow.
Good Luck Blue.
THE BANNER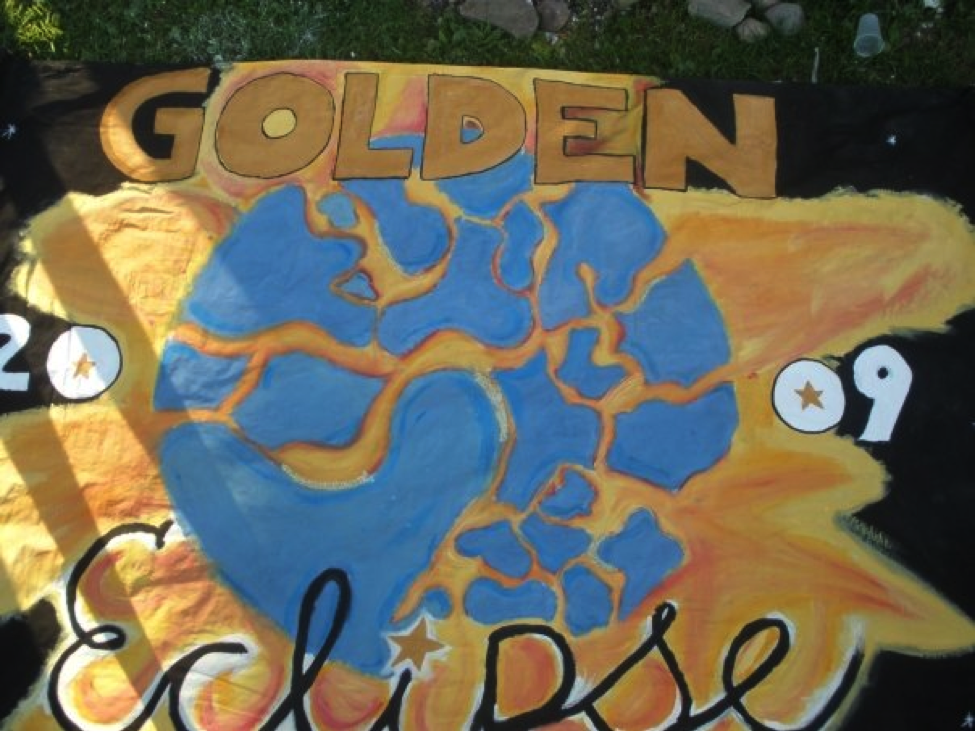 THE STANDARD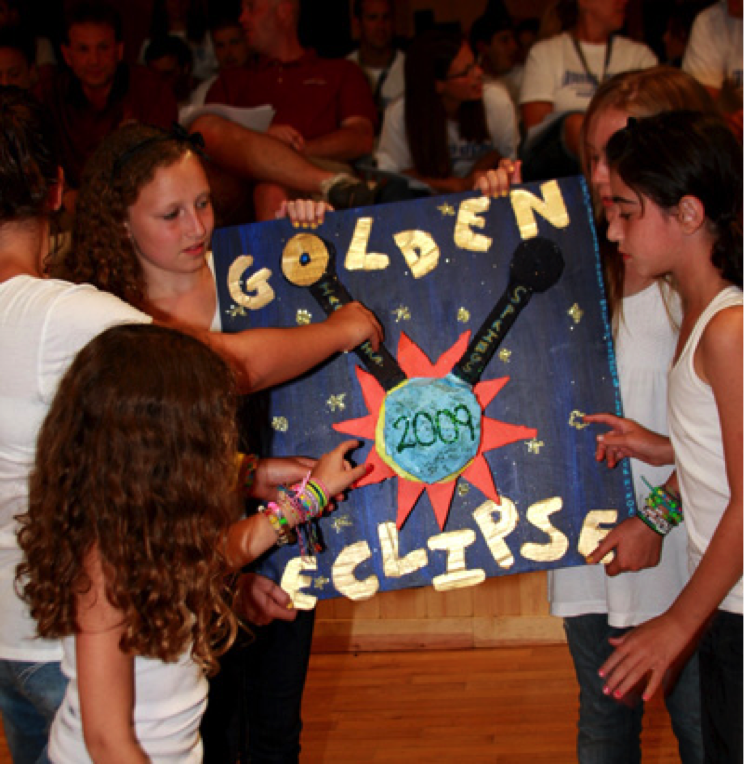 THE MARCH
By Allison Davis, Arnie Diamond, Gomez; Emily Greenberg,
Juliette Klemperer, Amanda Letterman, and Lexi Lisser
Gold team's here
We're set, we're ready
Eclipse will prevail
(1,2,3)
All this week we've dominated
Blue's destined to fail
(1,2)
Marble call, apache relay
Rope burn, and swim meet (1,2,3)
Doesn't matter what you do
Our team cannot be beat
(1)
Cause we're the gold team
And we are here to stay
Oasis get out of our way
Color week is ours this year
Blue we see your fear
And Gold is never backing down
(1,2,3)
Blue team thinks they have a chance
But that is just a dream
(1,2,3)
We played our hardest, tried our best
We are the winning team
(1,2)
In case you didn't know already
Victory is ours
(1,2,3)
Watch your back, we will attack
Gold is taking charge
Cause we're the gold team
And we are here to stay
Oasis get out of our way
Color week is ours this year
Blue we see your fear
GIRLS: And gold is never backing down
BOYS: Gold is never backing down
ALL: Gold is never backing down!
GO GOLD!
THE PLAQUE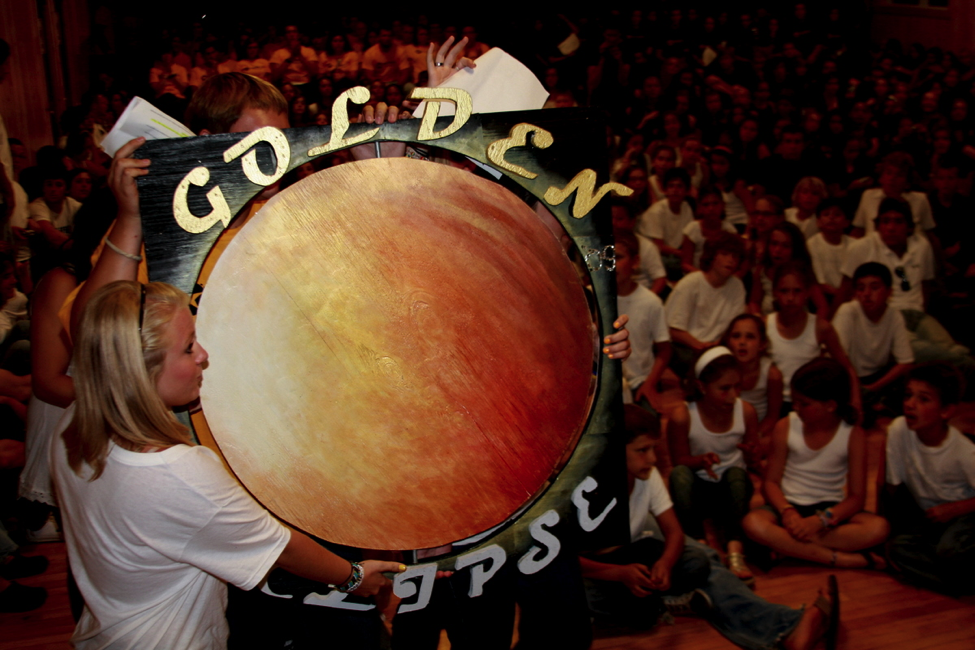 THE ALMA MATER
Tune: "I'll Follow You into the Dark" by Death Cab For Cutie
By: Melanie Kellstrom, Renata Horowitz, Stefani Greenstein, Nicole Steiner, and Amanda Letterman
Standing here
With you I no longer fear The end is far too near
I'll hold you close to my heart (1)
Tears roll down
As goodbyes come around
The sun fades to dusk
But your love keeps me warm (1,2,3)
When blue and gold collide
Our memories stay alive (1)
The warmth of you beside me, remains in my mind (1)
I won't be that far from you
So never say goodbye (1)
I'll hold you close within my heart (1,2,3)
There's so much to say
But words get in the way
So I hold your hand tight
Being here feels so right (1)
When we're miles away
And tears fill my eyes
It helps to remember we're under the same sky
(1,2,3)
When blue and gold collide
Our memories stay alive (1)
The warmth of you beside me remains in my mind (1)
I won't be that far from you
So never say goodbye (1)
I'll hold you close within my heart (1,2,3,1,2,3)
Summer fades
Leaves begin to change
I know I can weather it (1)
Thinking of you (1)
With each cool breeze
Comes the shadow of a memory
Bringing me back to you (1)
Iroquois Springs
(1,2,3)