2009: Oasis Blue
FIELD MARSHALS
Chris Rhead
Scott Lybarger
John Riskas
John Palazzo
Chris Johnson
Gabby Peyton
Robyn Martin
Lori Chaytor
Gabi Spector
Lauren DeMicco
FIVE STAR GENERALS
Scott Silverman
Dylan Young
Callie Arlo
Sarah Holzberg
GENERALS
Matthew Dacher
Lawrence Rekblatt
Jesse Burak
Kelly Mizner
Stacy Rozansky
Amanda Edwards
LIEUTENANT GENERALS
Sam Parmett
Miles Kurtz
Payge Kerman
Morgan Ness
ARTISTIC DIRECTORS
Jake Lynch
Allie Schachter
ROPE BURN LEADER
Corey Sider
SING COORDINATOR
Claire Lichtenstein
MAJORS
Daniel Engelson
Zachary Gilliam
Molly Breitbart
Rachel Geffner
CAPTAINS
Alex Kestenbaum
Daniel Goldstein
Danielle Tovar
Amanda Clark
THE POEM
Oasis, the sweet relief that you crave,
This is no mirage, you are finally saved.
Your refuge, your hope, your strength is regained,
After trudging through what seemed like miles of pain.
But what is this Oasis, this wondrous thing?
It is two simple words: Iroquois Springs.
The love, the memories, the friends that will last,
Do not fade away though 6 weeks have past.
With 10 months to go, it will always be
That our Oasis will return in all of its beauty.
The might of our team and the spirit we hold,
Are stories for generations to be treasured and told.
And though Blue and Gold are on separate sides,
Our love for one another shall always coincide.
Even in the winter, when the cold makes you chill,
Know that you'll soon be back in Rock Hill.
And so as Color Week comes to a close,
We wish Eclipse luck, because everyone knows,
At the end of summer, we are united as one,
And at Iroquois Springs, the story's never done
THE ESSAY
An oasis is a safe haven, a place where all of your stresses, pains and challenges disappear for a healthy change in ones life. These havens are habitable place inside a desert, a piece of heaven in hell. Everybody has their own oasis, although they may not be a literal oasis.
For many people, Iroquois Springs can be considered an oasis. Campers and counselors of all ages come from all over the world to spend their summer at Iroquois Springs. Regardless of all of our different lifestyles and situations during the year, we all come to escape worldly pressures, such as school and work that can make our everyday lives harsh, like the conditions of a desert. Iroquois Springs provides a retreat where we can come together and rejuvenate our bodies and souls.
When in the desert, wanderers look forward and need to find an oasis to survive. People from all over visit these havens, which unites them much like camp or more specifically the 2009 Oasis Blue team. No matter who you are, a camper or counselor, whether you live on boys side or girls side, well all come together at this oasis, causing Oasis Blue to unite.
These escapes bring pleasant change to our thriving camp community. Every year campers look forward to discovering the magical oasis of color week. When in the desert an oasis with bring relief, joy, and happiness, color week does just that for all the inhabitants of Iroquois springs. It brings excitement to the every day schedule of camp. We are involved in healthy competition, cheering, and participating in activities. It's something to look forward to all summer, exactly like finding an oasis in the desert.
An oasis is a place of peace, refuge, and rejuvenation much like Iroquois Springs to us. Within camp, color week gives us something to look forward to and united Oasis Blue as one team. However, at the end of the day, this shelter is home to everyone and we are one camp, and one family.
THE STANDARD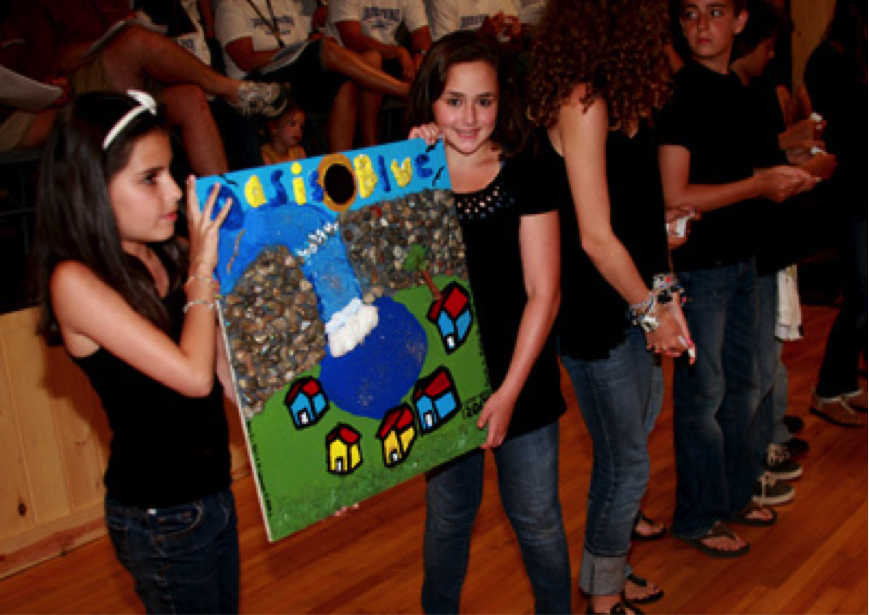 THE MARCH
Tune: "I Want You Back" — The Jackson 5
By Claire Lichtenstein, Laynie Barmak, Dani Levin, Dara Giglio, Danna Cooperberg, Rachel Golub
When the blue team comes around (1)
The gold team hides in fear (1)
They are gonna fall tonight (1)
Now that we are here (1,2)
At the pool and at the track (1)
Eclipse watch your back (1)
We've got strength and spirit
And were ready to attack (1,2)
Oasis Blue is gonna rise on top (1,2,3)
There is nothing that can make us stop (1,2)
All week we dominate and fight (1,2,3)
Victory is our teams tonight (1,2)
Try and catch us all you want (1)
You surely wont succeed (1)
Everything the blue team has
Is just what gold team needs (1)
Rope burn and apache (1)
Were gonna win it all (1)
There's hardly competition
As we conquer marble call (1,2)
Oasis blue is gonna rise on top (1,2,3)
There is nothing that can make us stop (1,2)
All week we dominate and fight (1,2,3)
Victory is our teams tonight (1,2)
GO BLUE!
THE PLAQUE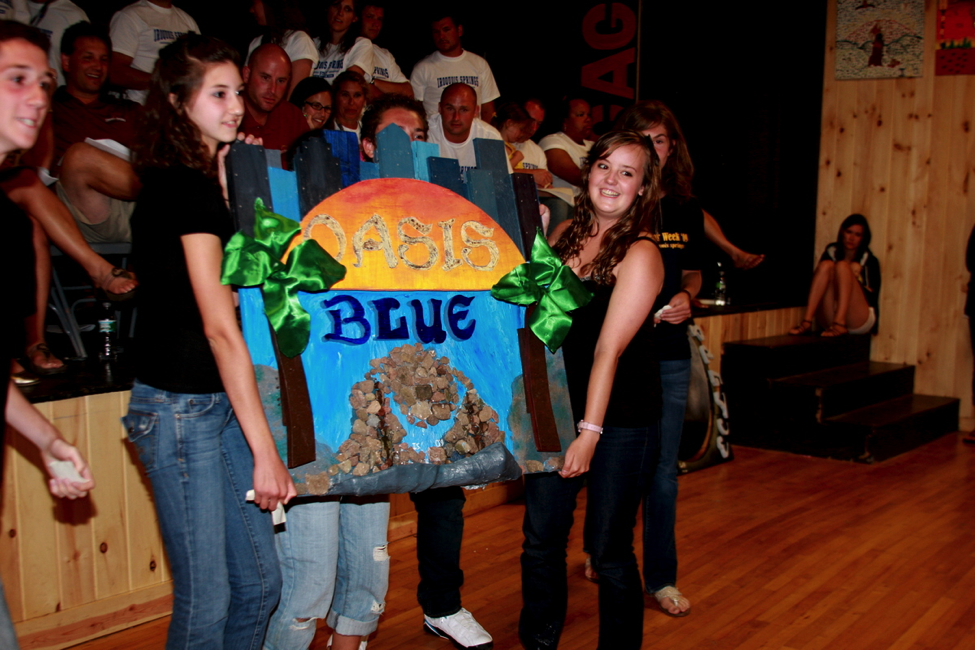 THE ALMA MATER
Tune: "Swing Life Away" – Rise Against
By Claire Lichtenstein, Leah Buchman, Amanda Edwards, Megan Landau, Carly Hitzig, Ashley Klein
(1, 2, 3, 4) (1, 2, 3, 4) (1, 2, 3, 4) (1, 2, 3)
We're standing still, as time passes by
Your hand in my hand, together tonight
The flames slowly dying, we know we must say our goodbyes (1)
It's hard to believe, this chapter is done
We want to turn back, but the story goes on
Iroquois Springs, an unending piece of our lives (1,2)
Between blue and gold we've seen memories unfold
The times that we've shared, and the love that they hold
We treasure the laughter, the smiles, the tears
We've grown old together, our love keeps us here (1,2)
When standing apart, our hearts intertwine
As seasons go by, your still on my mind
The pages keep turning, but we'll be returning back home (1)
Boys: Looking back on those days, never want them to end
Girls: I know you'll be there, forever my friend (1)
All: With pages still turning, we know we're returning back home (1, 2)
Between blue and gold we've seen memories unfold
The times that we've shared, and the love that they hold
We treasure the laughter, the smiles, the tears
We've grown old together, our love keeps us here (1,2)
The story never ends (1)
Always at Iroquois Springs (1)
Always at Iroquois Springs