2010: Golden Frontier
FIELD MARSHALS
Emily Akroyd
Jenna Wallshein
Dot Jones
Kim Newport
Annie Sutherland
Ross Eveland
Rich Griffiths
Wes Laga
Sam Foster
Michael Francis
FIVE STAR GENERALS
Will Gladstone
Danielle Levin
Lauren Gerber
Stefani Greenstein
GENERALS
Douglas Shunk
Zev Leopold
Kyle Kelly
Nicole Waxner
Sydney Chason
Madison Hoffman
ARTISTIC DIRECTORS
Rachel Mann
Miles Kurtz
ROPE BURN LEADER
Michael Frank
SING COORDINATOR
Tess McIntyre
LIEUTENANT GENERALS
Chelsey Cohen
Emily Karmel
Sydney Carus
Aaron Zucker
Zach Silverman
Jackson Berner
MAJORS:
Josh Maurer
Noah Waxner
Julianne Salerno
Alexandra Rood
CAPTAINS
Max Carus
Mark Schacter
Katherine Berman
Sarah Newfield
THE POEM
The frontier, a place yet to be uncovered So many things that one can discover Open your senses, open your mind To a land of beauty, who knows what we'll find.
This new frontier and the joy that it brings
Has now turned into Iroquois Springs
With what we've discovered over the past ten years Ensures that the future will be just as clear
Our.journey began with lessons from the past
With the new traditions taught, our love still lasts
We wait ten months to discover anew
Who we truly are in two months, and we are only a few
From our frontier we've discovered the blue and the gold But now it's become a second home
And although in this week we are forced to divide At the end of the day our hearts will always collide.
So we wish good luck to Archaean Blue
Our competition is fierce but we will always love you
For this competition marks ten summers of fun
So thank you Iroquois Springs, here's to ten more summers to come
THE ESSAY
By: Molly Breitbart and Jamie Brensilber
Life is all about change. The world grows, horizons expand and people push their frontiers forward. A frontier is "a political or geographical term referring to areas near or beyond a boundary." Just as with American and world history, camp is all about opening new chapters of our lives and pushing past our golden frontiers.
The United States' wide-open west, in the young years of the country, was equated with visions of endless possibility. These lands enticed people with their numerous assets, including riches and newfound freedom. Many prospectors discovered gold in the then unsettled western territories, such as modern day California. A rainbow of various ethnicities flocked to partake in what we now know as The Gold Rush. At camp, we strike it rich with treasures of our own – our friendships, our memories, and the idea of new adventures and possibilities in store with each summer.
All of these possibilities and opportunities led people to scout the western frontier. These infinite possibilities became realities when President Jefferson negotiated the Louisiana Purchase with Napoleon. Lewis and Clark were commissioned to investigate the vast, uncharted wilderness. They learned of the people, the traditions and the assets of the area, and they relayed this information to the world. A decade ago, Mark and Laura purchased this camp. After a few years exploring the lay of the land, they successfully integrated beloved Sequoia traditions with fresh ideas for the future of Iroquois Springs, as we can see now, looking back on our ten-year anniversary. By being a part of this camp and participating every summer, we each uncover never-before¬ known insights about our world here at camp and about ourselves.
Americans took pride in forging west. People believed it was their right to do so through Manifest Destiny. The government passed the Homestead Act, giving citizens a plot of land out west upon which they could settle and begin a new life. Many pioneers, mostly cowboys of the frontier, began to fill quaint towns that
eventually transformed into thriving metropolises with the growing additions of everyday people. At first the frontier way of life was not all a shimmering tundra of gold and promise as it appeared to be. In truth, cowboys led lonely lives with long hours of tedious work. They braved these challenges and persevered, just as our team has all throughout this week. After moving from Europe to the east coast then to the west coast, there was a brand new frontier. In the 20th century, people halted the pattern of moving west and voyaged into space. President Kennedy called this unknown phenomenon "The New Frontier." The world will continue to explore new frontiers, just as we will forever be inspired to continue exploration here at camp, where opportunities eagerly await us. During Color Week, even when defeat seems inevitable, we overcome challenges, persevere and emerge victorious as a team.
Color Week divides our camp into two teams — the Achaean Blue and the Golden Frontier. The gold's bravery and might unite us to fight through whatever comes our way. Similarly, after the Civil War divided the country, the transcontinental railroad united the nation. Lincoln, in his second inaugural speech, stated the railroad "tied up the nation's wounds." This time period can be considered an American Golden Age, with peace and prosperity in our new frontier. Sing, as an event with all of its outstanding participants, rekindles our unity.
All throughout life, we are handed new opportunities. Sometimes these opportunities being forth challenges, but the Gold team faces them with bravery and unity. Similarly the early settlers of our country benefited from the expansion of the western frontier. Camp is our golden frontier.
THE STANDARD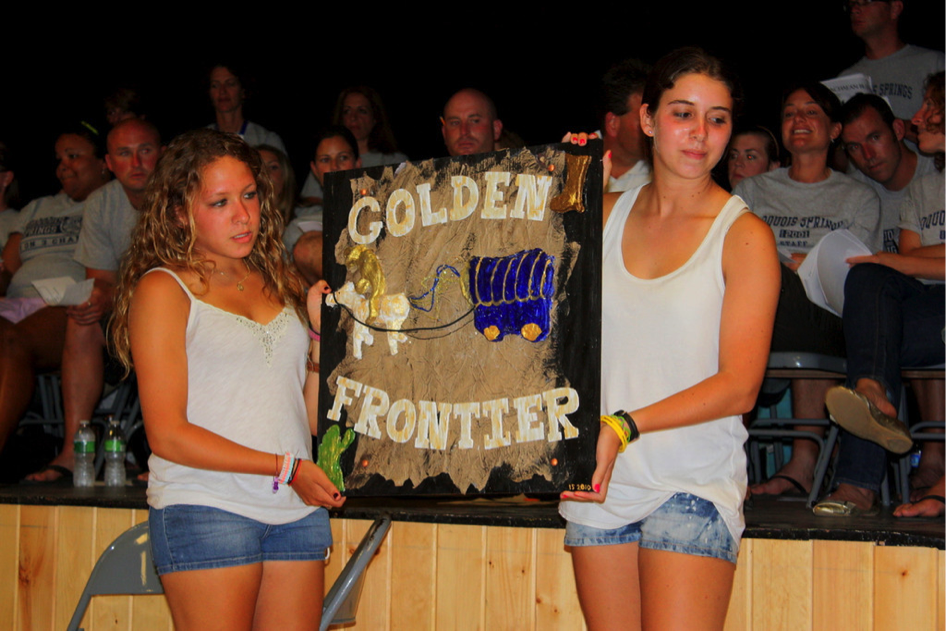 THE MARCH
Tune: "All the Small Things" by Blink 182
Authors: Tess McIntyre, Payge Kerman
Gold's here, ready (1)
Frontier is coming (1)
We're strong, daring (1)
There's no comparing (1)
Pool, track, apache (1)
Catch up, we're winning (1)
Spirit, stays high (1)
Hear our, battle cry (1)
We're Golden Frontier
We will be here
Staying on top
Victory is near
Frontier, you'll see now (1)
We'll show you how (1)
The gold team surely will come through (1)
Destroying hopes and dreams of blue (1)
We're Golden Frontier
We will be here
Staying on top
Victory is near
Moving forward (1)
Blues standards are lowered (1)
Gold's creating a new start (1)
Achaean will be torn apart (1)
We're Golden frontier
We will be here
Staying on top
Victory is near
1….2….3 GO GOLD
THE PLAQUE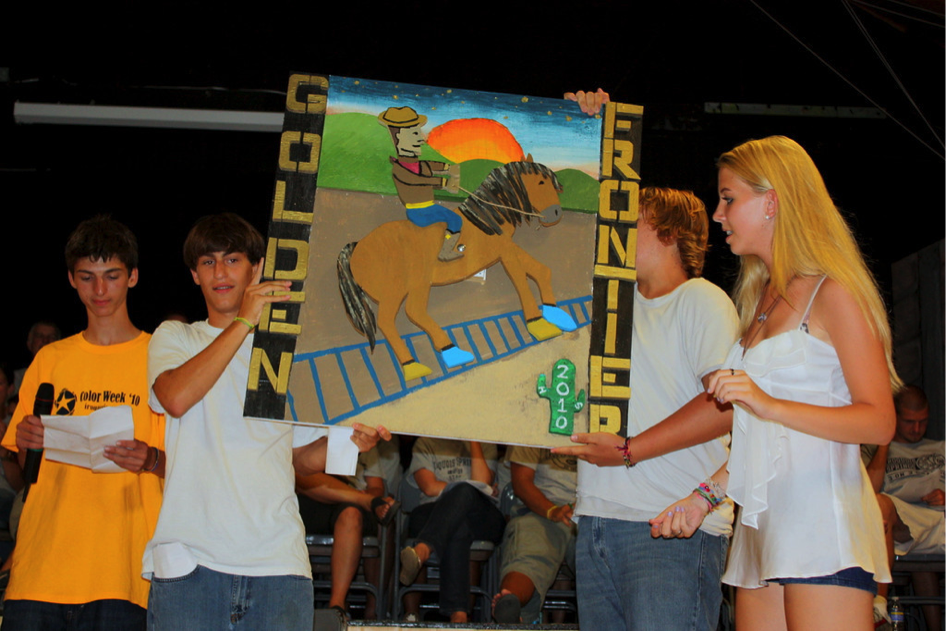 THE ALMA MATER
Tune: "Like We Used To" by A Rocket to the Moon
(1,2,3,4,1,2,3,4,1,2,3,4,1,2,3,4,1,2)
I can feel the days as they're slipping away (1,2)
Sharing final hours with you (1,2,3)
We're here so close, yet we'll be far away (1,2)
Time is never on our side (1,2,3) If only we would never have to part (1,2,3,4)
Blue and Gold sewn into our hearts (1,2)
Try to grasp these precious moments
Try to hold them while we can
The summer may be at a close
But our love never seems to end
Remember times we've spent together
Growing old throughout the years
Know I'll always be…. (1)
Thinking of you
(1,2,3,4,1,2,3,4,1,2,3,4,1,2,3,4,1,2)
Longing for the day, home at Iroquois Springs (1,2)
Memories linger in our souls (1,2,3)
Distance is so real, but our bonds still hold strong (1,2)
Time continues to pass by (1,2,3)
Soon we will return where we should be (1,2,3,4)
Blue and Gold sewn inside of me (1,2)
Try to grasp these precious moments
Try to hold them while we can
The summer may be at a close
But our love never seems to end
Remember times we've spent together
Growing old throughout the years
Know I'll always be…. (1)
Thinking of you
(1,2,3,4,1,2,3,4)
Girls: Remember our childhood together
Boys: tonight is ours to treasure
All: I'll be here for you forever
Try to grasp these precious moments
Try to hold them while we can
The summer may be at a close
But our love never seems to end
Remember times we've spent together
Growing old throughout the years
Know I'll always be…. (1)
I will always be…. (1)
Thinking of you