2017: Golden Empire
FIELD MARSHALS:
Sam MULLINS
Alex LUPO
Joshua ANDERSON
James BLACKBURN
Michael PEARSON
Halle MCDONAUGH
Emily KNOWLES
Bridget KENNEDY
Lauren MCHUGH
Dani LICHT
FIVE STAR GENERALS:
Thomas CHASON
Jason LEVER
Samantha BRISTOW
Gabrielle KRUMPER
Jordyn LIEBERMAN
GENERALS:
Ben KAMP
Brandon WEINBERG
Maya JOHNSON
Sofia GOLDBAUM
Alex SHESH
ROPE BURN LEADER:
Seth MARCUS
ROPE BURN BUILDERS:
Jordan DOBSTAFF
Eli WEINER
SING COORDINATOR:
Arianna STASSA
ARTISTIC DIRECTORS:
Evan HITSKY
Emily CHAR
LIEUTENANT GENERALS:
Drew GROSSMAN
Carson MO
Aidan SILVERMAN
Jade RADICE
Celia GINSBERG
MAJORS:
Jordan DOBSTAFF
Brayden FISCHER
Danielle KLEWANS
Mia BATTISTELLA
APACHE RELAY KETTLE BOILERS:
Ryan COHEN
Spencer LEVY
Hailey HIRSCH
Kylie WARSAW
CAPTAINS:
Ethan UNGER
Tyler WENCZL
Zane GROSS
Mallory LIFFMAN
Mikah GROSS
THE POEM
Gold Team is ready for domination
We are the creation of our empire's foundation
Our roots are strong, our opponents are weak
Blue team's fight was long but bleak.
Apache, track, and swim meets too
Our efforts always triumph Blue.
Our victories make the minds of our opponents spin
The Golden Empire is sure to win.
Throughout these four days the score has flip-flopped.
But there is no doubt the Blue will drop.
Hundreds of campers in a grueling matchup
At the end of the day Blue can never catch up.
The way the Blue team is fighting is complete bologna.
Can we please get a call from Jacob Maloney?
Jacob Maloney: Thank you.
Gold team: That's alright.
Hawaiian Blue step up your game
If you ask the Empire it's pretty lame.
When all is said and done tonight
The Gold has won this four day fight.
We enjoyed your presence as our competition
Beating you has been a successful mission.
THE BANNER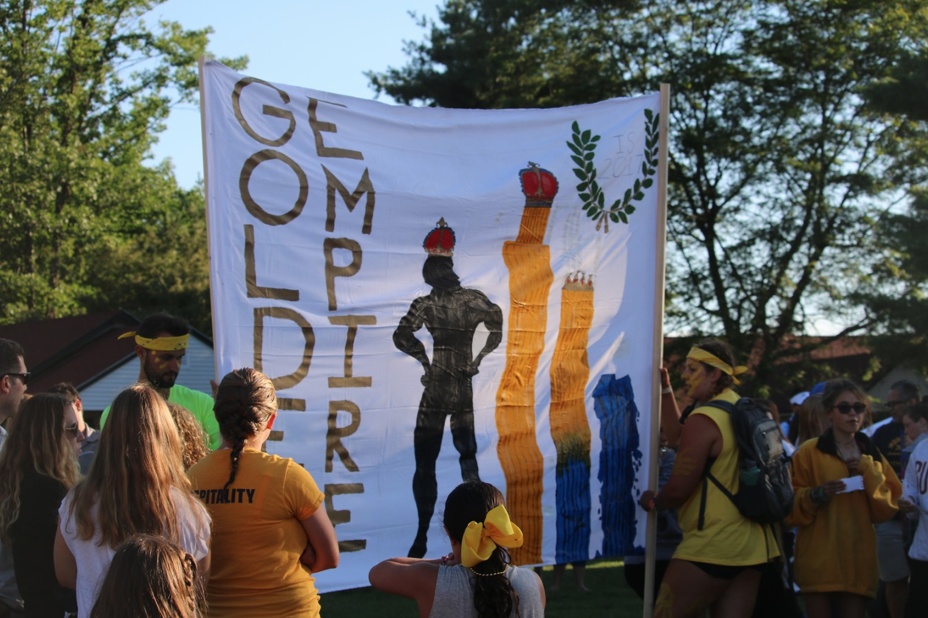 THE STANDARD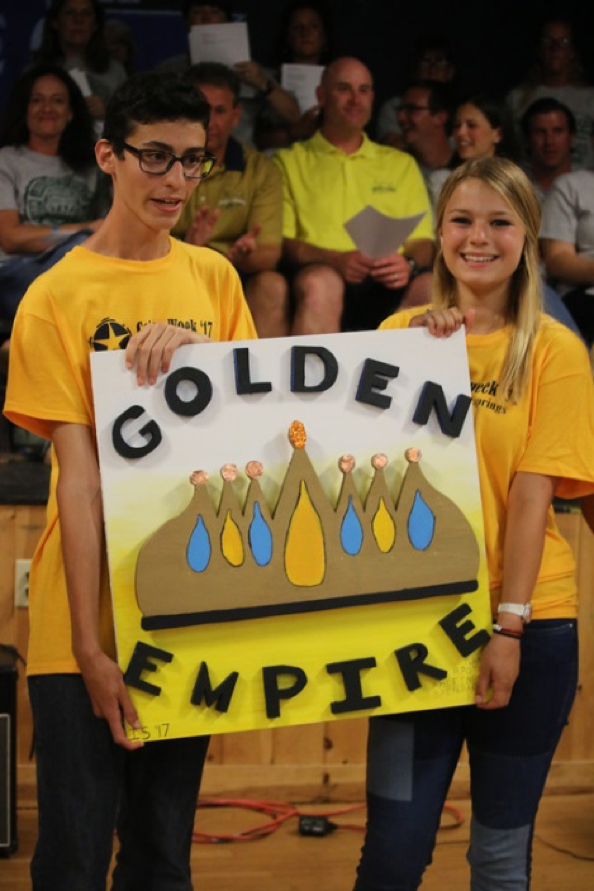 THE MARCH
To the tune of "Five Minutes to Midnight" " By Boys Like Girls
Verse 1:
(1,2,3,4, 1,2,3,4)
Gold team, four days to win it all
Built strong, our Empire won't fall (1)
Standing, (1) taller than before (1,2,3)
Cause hey Blue team
There's nothing we can't do
We've got the power to beat you (1)
And now we're face to face with Blue (1, 2, 3)
Pre-Chorus:
Hawaiian we will let you know (1,2)
We are the strongest and it shows (1, 2)
We are Go-o-old (1)
Got all we need so here we go
Chorus:
Gold will shine, (1) Here and ready to fight
We're taking home the win tonight (1,2,3,4)*
Blue you will see, we will defeat, dominate
All night, (1) Our victory is in sight (1)
Blue you don't put up a fight (1,2,3,4) *
Hawaiian will drop, Gold is on top, This is our time (1,2,3,4)
Verse 2:
Girls: Apache, track, art, marble call
Boys: Blue team we know that you're gonna fall
All: Empire (1) we got it all (1,2,3)
Pre-Chorus:
Hawaiian we will let you know (1,2)
We are the strongest and it shows (1, 2)
We are Go-o-old (1)
Got all we need so here we go
Chorus:
Gold will shine, (1) Here and ready to fight
We're taking home the win tonight (1,2,3,4)*
Blue you will see, we will defeat, dominate
All night, (1) Our victory is in sight (1)
Blue you don't put up a fight (1,2,3,4) *
Hawaiian will drop, Gold is on top, This is our time (1,2,3,4)
GO GOLD (right arm)
THE PLAQUE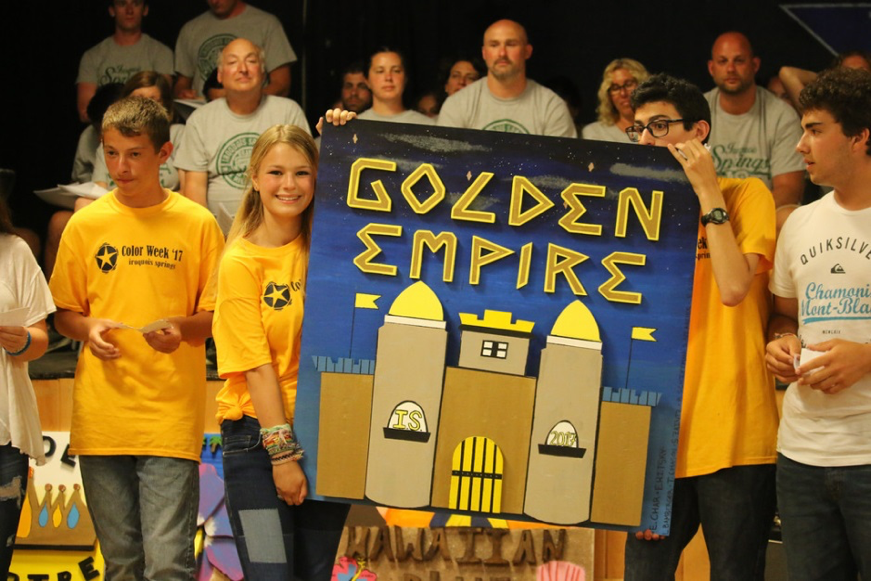 THE ALMA MATER
To the tune of "Aftermath" By Lighthouse
Verse 1:
(1,2,3,4, 1,2,3,4, 1,2,3,4, 1,2,3,4)
Remaining here with emptiness inside me  (1,2)
Knowing that the clock is ticking by (1,2)
Memories will be there to remind me (1,2)
Why I feel so safe right by your side (1,2)
Chorus:
As the flame begins to die
I feel your hand slip into mine
Wishing that the light would never fade (1,2)
When the days pass, distance grows
In my heart I'll always know
A piece of me is with the blue and gold
(3, 4, 1, 2, 3, 4, 1, 2, 3, 4, 1, 2, 3, 4, 1, 2, 3, 4)
Verse 2:
As the seasons change, we then remember (1, 2)
Moments that just slipped beneath our feet (1,2)
Even when the silence feels the loudest (1,2)
Your voice will always come right back to me (1,2)
Chorus:
As the flame begins to die
I feel your hand slip into mine
Wishing that the light would never fade (1,2)
When the days pass, distance grows
In my heart I'll always know
A piece of me is with the blue and gold
Bridges:
Fearing our final goodbyes (1,2)
(Girls)  I never thought I'd have to leave you behind (1)
(Boys) Wishing that we could rewind (1,2)
(Both) You're always engraved in my mind (1,2,3)
Chorus:
As the flame begins to die
I feel your hand slip into mine
Wishing that the light would never fade (1,2)
When the days pass, distance grows
In my heart I'll always know
A piece of me is with the blue and gold (1,2)
(Slowly)  A piece of us in always here at home