Arts at Camp
A summer at Iroquois Springs offers campers' endless opportunities to step outside of their comfort zone, take on personal challenges, and discover great achievement and confidence. Every day, campers take healthy risks at outdoor adventure, learn new skills on the waterfront, and give it their all on the many sports fields. But in addition to the activities that physically challenge campers, there are just as many wonderful activities that offer creative challenges. The creative and performing arts program at Iroquois Springs allows campers to explore their artistic side and have a lot of fun in the process. You don't have to be an artist or have any previous creative experience to get involved in the arts at camp; all it takes is an interest to create and try something new. Campers can participate in camp plays, create meals at kitchen stadium, make movies at digital media, and design t-shirts at wearable arts. "Hobbyville" is filled with exciting and interesting avenues to create, express oneself, have fun and build confidence.   Campers of all ages get excited about building and launching their rockets in rocketry, being a member of the band in "garage rock band", and developing skills in woodworking and arts & crafts. All of these artistic activities provide campers with a place to express themselves creatively and feel great about their accomplishments.
MaryAnn F. Kohl, author of "Primary Art: It's the Process, not the Product", believes that creating art expands a child's ability to interact with the world around them, and provides a new set of skills for self-expression and communication.   "Where art is concerned, it is the process of creating – exploring, discovering and experimenting – that has the greatest value". We too understand the importance of participating in the creative and performing arts, and appreciate the benefits it provides our campers.
The arts at camp involve decision making and problem solving. It's taking a lump of clay and deciding what sculpture to form, designing a unique piece of jewelry from a tray of random beads, or choosing what ingredients to use for the perfect smoothie. The arts are a means to communicate ideas and feelings both verbally and non-verbally. Kohl feels that "art goes beyond verbal language to communicate feelings that might not otherwise be expressed". It's communicating feelings through a painting, photograph or dance.  The arts also teach campers perseverance. Learning a new skill, like playing a musical instrument takes determination. New skills and techniques are practiced, and this perseverance brings personal success.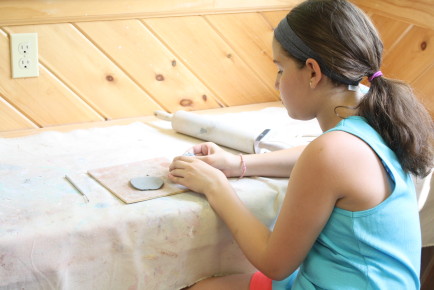 The performing arts at camp give campers the opportunity to build teamwork skills, and have a sense of belonging. Regardless of one's role in the camp play, all cast members are an important part of the team. Performing arts also allows campers the opportunity to step outside of their comfort zone and perform onstage in front of their friends and camp family. There is nothing like seeing a shy camper come out of their shell and take on a role in the camp play, or join their group for a "mock rock" performance. It is a great confidence booster and experience they will remember for a lifetime.
The arts at camp give campers a chance to try new things, communicate, challenge themselves and feel proud of their accomplishments. Come see all of the amazing projects and performances on Visiting Day (July 11th). It's the perfect time to see what your camper has been up to in the Iroquois Springs arts program. Watch your camper launch their very own rocket, view their digital movie, hear their musical talents, and admire all of their projects on display at "Hobbyville". The best part is seeing how much fun campers are having creating and expressing themselves through the arts. We can't wait to see all the creative works of art and performances that come out of summer 2015.