Countdown to Camp
Spring is finally in the air! This was the winter that never ended. Every time we dared to put away the shovels and snow boots, another layer of snow would coat the ground. But we made it through and with winter behind us, we can now focus on warmer weather and the countdown to camp. In about two months, we will be back at our summer home having the time of our lives. Gearing up for another summer is an exciting time. Camp trunks are out of storage and everyone is checking off their list of camp supplies. The dining room table (or any space you have designated for camp gear) is covered with clothing, sneakers, towels and all the essentials needed to head off for summer 2015 at Iroquois Springs.
The countdown to camp is usually filled with many emotions. Returning campers cannot wait to see their old friends, meet new ones, and get back to all the fun and traditions of camp life. New campers are anticipating all the amazing activities, events, and friendships they will form. But another feeling that may arise for both returning and first time campers could be concerns about feeling homesick. This feeling is common and a normal part of the process of leaving family and the familiarity of home. Michael Thompson, PhD., psychologist specializing in children and families, reports that 95% of children experience at least a bit of homesick feeling when they are away from their parents at summer camp. But only 8% of children develop severe homesickness. That is not to say these campers do not experience a successful summer, filled with friends, accomplishments and wonderful memories… they may just need some support and encouragement along the way. Preparing a child, who is concerned about feeling homesick, can make the journey a bit easier. Supporting a child, who does experience homesickness while at camp, will allow them to work through these feelings and focus on all camp has to offer.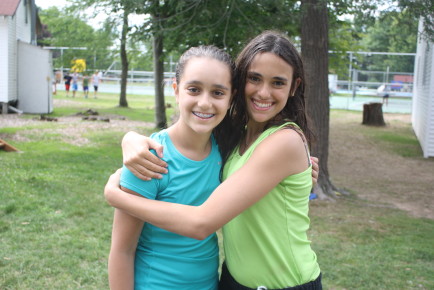 If you have a camper expressing some concern about being away from home, let them know that feelings of homesickness are normal and they are not alone with these feelings. Knowing that you are there to help them prepare for camp with confidence will be a great start toward their camp journey. Encourage them to share their feelings with their counselors, who will understand and help them to work through these feelings. If you are new to camp, attend New Family Orientation and spend the afternoon meeting other first time campers and key staff members. It's a great way to get more familiar with camp life, and know some of the faces when the first day of camp arrives. In the packing process, be sure to pack your camper's bags with a personal item (or two) that will provide comfort and security. It can be a favorite stuffed animal or family picture, anything that gives them a happy reminder of home. Tune in to how your child is feeling and listen with a positive ear. Give them the confidence to work through their fears, and let them know how proud you are of them for their courage. Once they have arrived at camp, our trained and experienced counselors will help them adjust to camp and enjoy every moment of their camp experience.
Homesickness may or may not be a part of your camper's experience through the camp journey, but it's important to remember that if it does come up, it will get better. There is nothing more rewarding than seeing a camper work through feelings of homesickness and become a more confident, independent and resilient individual. So enjoy the countdown to camp and know that summer 2015, and all the incredible moments and memories we will be creating, is just around the corner.