Fitness at Camp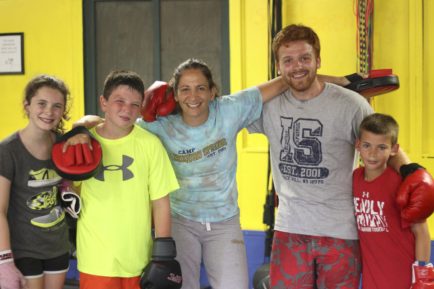 Physical activity is an important part of living a healthy life. Exercise keeps you at a healthy weight, helps you live longer, and may lower your risk for illness.  It also relieves stress, improves memory, helps you sleep better and boosts overall mood. Regular physical activity is just a great way to improve your overall quality of life, and most importantly, it's a whole lot of fun!
No one knows the power of exercise more than Iroquois Springs very own Fitness Director "Tara Fitness".  With over 25 years of experience as a Masters level certified personal trainer and group instructor, Tara will be the first to tell you how important, fun, and crucial, safe and effective fitness can be.  Tara will be back at camp for her 9th summer to encourage, inspire and motivate campers to incorporate fitness into their lives.  "I love the passion, diversity and uniqueness that each camper brings to the fitness program.  No matter what someone's strengths or weaknesses are, there is something for everyone.  Every camper finds something they like".  And finding something to love at fitness is easy, from kickboxing, aerobics, spin class, yoga, Pilates, HIIT training, speed training, weight training, working out with a partner in a group, or alone, the opportunities to get moving and have fun are endless.  Tara's goal is to help campers "find what type of fitness they enjoy and incorporate that into their daily lifestyle".
Where better to get moving and experience all aspects of fitness than the new Fitness Center at Iroquois Springs!   The new Fitness center, located just behind the fieldhouse, overlooking the lake, is now getting the finishing touches and is looking quite impressive.  The new rooms will feature spin, weights and cardio, and a large studio for classes. The expansive deck will double the space inside and provide an additional location for classes in yoga, Pilates and more.   Campers are going to be more excited and enthusiastic about working out than ever before.  Tara says that "the new space will be incredible, but the best part of fitness at camp is the people.  When campers come to the fitness center excited and enthusiastic to work out and eager to try out the new equipment – that is when I will be most excited about the new facility".
Top 10 reasons to lace up your sneakers and get excited about the new fitness center…
Exercise helps maintain a healthy body weight.
Builds strong muscles and bones.
Improves self-esteem and self-image.
Improves quality of sleep.
Boosts creativity.
Improves energy and overall mood.
Improves coordination and motor skills.
Improves memory.
Adds years to your life.
And, exercise is FUN!!!
"From freshman to staff, the new fitness center has something for everyone.  It's going to provide us with an amazing place to continue to build on our great program.  I can't wait for summer 2017". Tara Fitness