Giving Thanks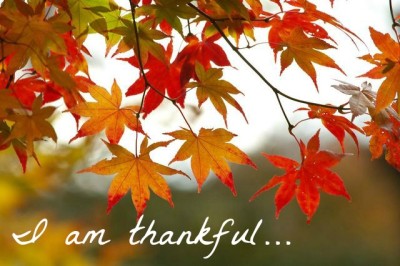 Thanksgiving is here and people all over the US are getting ready to gather with family and friends, watch a little football, and of course eat some turkey. The history of Thanksgiving originated with the pilgrims and the thanks given for their survival and prosperity that was enjoyed. Though the history may get lost in modern times, it's well worth doing what the pilgrims did so long ago…give thanks!
Thanksgiving is the perfect occasion to reflect on the people and good fortune in our lives, and be thankful. Taking a moment to show gratitude is important and valuable. Psychology Today reports that the act of expressing gratitude to others has been associated with increased levels of optimism, empathy and energy. Other research shows that gratitude provides physical, mental and emotional benefits. People who are grateful for what they have also tend to be less depressed, envious and greedy.
The 2014 Fall Edition of "The Iroquois Springs Times" is filled with giving thanks to our camp community.  The "note from Mark and Laura" expresses how lucky they feel to be part of the magic of camp. They are thankful and proud to be part of a community that teaches the importance of paying respect, showing appreciation for others, building skills, approaching everything with heart and soul, and living in a community with a sense of the importance o
f caring for others.  In "Bubba's Clipboard", he gives thanks to the wonderful staff who work tirelessly each and every day to run great programs, and who genuinely give everything they have to ensure the success of campers. Josh and Rosie also express feelings of appreciation for all campers, counselors and group leaders who were part of a very special camp experience. The pages of the 2014 Fall Edition are a true expression of being thankful for everyone who makes up the Iroquois Springs community.
The spirit of Thanksgiving is also about giving back to those who are less fortunate. The experience of giving back is something the whole family can get involved in, and something that is invaluable and empowering.   Give back by getting involved in volunteering or donating to people in need. It can be preparing and serving a meal at a shelter, contributing canned goods to a local food bank, or donating books and toys to a children hospital. No act of giving back is too small. It's a great way to celebrate all that you have and all that you are thankful for.
So enjoy the Thanksgiving holiday, the time off from work and school, the gathering with family and friends, and be sure to express your gratitude and give back. A simple thank you or act of kindness goes a long way. Happy Thanksgiving and THANKS!