Kids in the Kitchen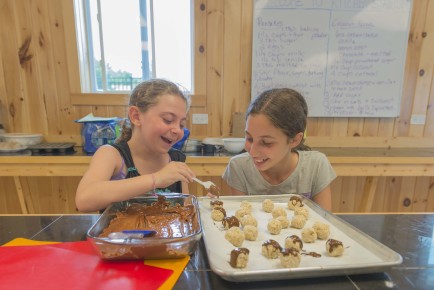 If you are a fan of the Food Network or Cooking Channel, you are well aware of the many cooking challenge shows being aired on television today.   The various challenges involve all levels of cooks, from professional chefs, to novice bakers, to even the worst cooks in America. The ages of the contestants also run the gamut, with shows including children as young as 8 years old. These kids truly amaze and impress viewers with their confidence and creativity in the kitchen. Their abilities in the kitchen are beyond their years, and beyond impressive. But no matter how old the contestants, cooking challenges are fun to watch, and a great way to inspire kids to get in the kitchen and do some of their own creating.
When we think of ways to help kids develop self-confidence, responsibility, healthy habits, and expression of creativity, we typically think about opportunities in sports, performing and fine arts, and academics. But we would be missing a lot if we didn't include Cooking. Cooking is fun and a great avenue to get young people more involved in an art that teaches lifelong skills in nutrition, healthy eating habits, independence, and a positive self-esteem. When kids create in the kitchen they feel good about contributing to the family and sharing their accomplishment. And the added benefit of sitting down together for a meal is the icing on the cake (pun intended). Cooking also requires hands on use of planning and time management, and is the perfect opportunity to bond with kids and have some fun together.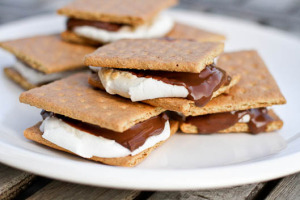 Cooking at camp is a favorite among our campers. Kitchen Stadium is a place to create, have fun and try some new and healthy foods. Campers work together measuring, mixing, preparing and eating different cuisines. It's a great way to get kids to appreciate a wider variety of foods, and builds happy memories. We even have a bit of a kids cooking challenge during Color Week, where campers have a friendly cook off competition to see which team whips up a tastier dish. Throughout the summer, campers look forward to working together to create delicious foods they can enjoy and recipes they can recreate all year long. Everything from chocolate banana pizza, to fresh guacamole, to blue mountain milkshakes and beyond, Kitchen Stadium allows campers the chance to cook, create, and enjoy some homemade treats. We can't wait to see what new and delicious cuisine Lori has on the menu for summer 2016. Yum!