New Campers & Homesickness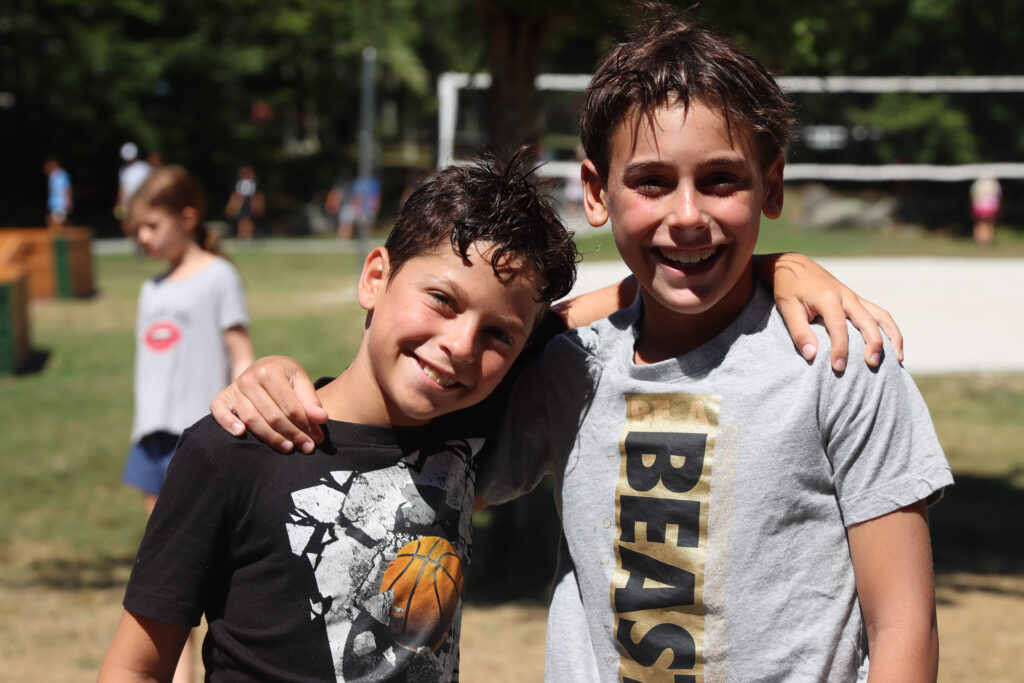 Going to camp for the first time can be filled with mixed emotions. Campers may be excited to join in all of the fun camp activities, events, and traditions while also experiencing some anxiety at the thought of being away from home and family for the first time. Camp is new and unfamiliar, and feelings of anticipated homesickness are natural and reasonable. Even if a camper has previously toured camp, participated in a Rookie Day, or watched the camp videos numerous times, the thought of actually stepping onto the camp bus and being away from family for an extended period of time, can create some anxiety.  
Luckily, there are many ways that parents, along with the team at Iroquois Springs, can help prepare new campers for a successful transition to camp and have an overall wonderful overnight camp experience. So, if you are hearing some hesitation from your camper-to-be as the start of camp approaches, here are some helpful tips.
What parents can do…
Listen, acknowledge feelings, and stay positive. Instead of talking kids out of their feelings, let them know that what they are experiencing is a normal reaction to something they have never done before. It's important to remind your camper that they are going to be okay, even when they are nervous. Let them know how confident you are in them. With each new experience, the confidence you have in them to get through uncomfortable situations will become their own. Be encouraging and reinforce all of the wonderful things they have to look forward to. Speak positively about the friends they are going to make, the adventures they are going to have, and all of the amazing camp activities they are going to experience.
Tell them who they can turn to. Understanding the structure of the camp bunk and division will help your camper know who they can talk to if they need guidance or support. Every cabin has at least three counselors that campers can count on. Counselors become the surrogate parents, friends, and leaders that will encourage connection with the group and create a supportive camp family environment. There is also a group leader that oversees the division, along with the heads of girls and boys side, and many other camp professionals who can provide helpful strategies to work through homesickness or any challenges that arise.
Get your camper involved in the packing process. Have your camper help choose items like bedding, clothing, and camp accessories that will bring them comfort and a sense of ownership when they get to camp. Be sure to pack some comforts of home, like a favorite stuffed animal, blanket, or photos of family and friends. To help kids feel connected to home, make sure to pack plenty of stationary, stamps, and mailing addresses. Campers will have time to write letters home to let you know all about their adventures, but they especially love receiving letters from home. Keep the letters upbeat and positive, and keep the snail mail coming.
Plan a sleepover. If your child is expressing concern about sleeping away from home and has never gone on a sleepover before, plan a night or two at a family or friend's house to give them some experience. It's a great way to familiarize them with sleeping away from home and to build their confidence and sense of independence.  Even one night at grandmas will make the transition to camp a bit easier.
What We can Do…
We are here to talk. Along with the work and care that parents will be giving to their children to feel increasingly confident with their transition to overnight camp, the dedicated Iroquois Springs team is always available leading up to opening day to answer any questions or concerns. We encourage parents and their campers to call the camp office with any and all questions to help make the process easier.
New Family Orientation is an experience we provide for new families to get campers excited for the start of camp. NFO is a great opportunity for our newest camp members to spend the afternoon at camp, touring the facilities, enjoying a delicious BBQ lunch, and meeting group leaders and other first-time campers. This special day will be held on May 21, 2023 up at camp. New families will become more familiar with not only the camp facilities, but with the life of a camper. Parents will learn everything they need to know about their camper's journey, and campers will have a chance to meet their group leader and new friends in their division. We find that this day alleviates some of the worries that a new camper (or camp parent) may be experiencing.
Our highly trained counselors and camp professionals are there every step of the way. The support and help that the IS team provides prior to the start of camp does not end when campers step off the camp bus. We understand how normal it is for campers to experience homesickness when they first arrive at camp, and we will give them the support and tools they need to make the most of their camp experience. It doesn't take long for campers to get into the routine of camp and work through their anxiety. They are immersed in a camp family of friends, fun, traditions, and spirit that becomes quite contagious.
Once a child has had a successful camp experience, where they become more independent, resilient, and confident, they will look back with great appreciation for the support you provided along the way. They will arrive home with stories of adventures with camp friends and will continue to sing camp songs well into the school year. Overnight camp presents endless opportunities for kids to discover their own capabilities. Thank you for believing in us and giving your camper the gift of overnight camp at Iroquois Springs. It's going to be a fantastic summer!