Our Comfort Zone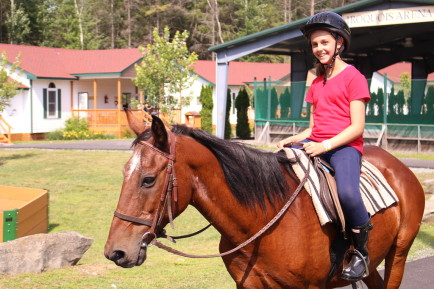 The concept of stepping outside of one's comfort zone is something we truly believe in and practice at camp. It is not just a message we communicate on our video, web site, and in our literature, but something we apply to all aspects of camp life. Encouraging campers to step outside of their comfort zone helps them grow and develop self-confidence. Your comfort zone is any type of behavior that fits a routine and minimizes your anxiety level. It's a psychological state where a person feels at ease, in control, and without stress. There is certainly nothing wrong with being in a comfortable state of certainty and familiarity, but research shows that stepping outside of it will help you try new things and grow. Psychologists have found that a little anxiety can help us perform at our peak.
First lady, Eleanor Roosevelt, said it perfectly when she said "you must do the things you think you cannot do". In order to keep learning and growing, you must take risks, even if they create some discomfort. The goal is not to raise your anxiety level to the point of panic, which can be counterproductive, but to take on a bit more than you're comfortable with. The experience will be the best reward. Stepping outside o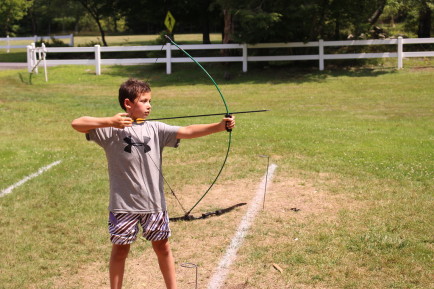 f our comfort zone pushes us forward and helps us grow. It's a path to personal discovery and development.
Teaching children to step outside of their comfort zone is an important life lesson. Camp has so many fabulous opportunities for campers to step outside of their comfort zone and challenge themselves to try new and unfamiliar things. By encouraging campers to try new things and challenge themselves, we give them the opportunity to build meaningful and memorable moments. Outdoor Adventure is a perfect place for campers to challenge themselves and soar to new heights (literally). Taking the journey up the climbing wall or going on the giant swing may induce anxiety and uncertainty, but when completed (no matter how many attempts it takes) the feeling of accomplishment and pride is immeasurable. And it is not just the physical challenges that help campers grow. Stepping outside of one's comfort zone can be performing onstage, making a new friend, trying a new food, or choosing an activity you have never tried before. When we step outside of our comfort zone we learn new skills, discover new passions and realize just how capable we really are. Camp allows campers to take small steps, gain confidence along the way, and achieve things they never thought possible!