Outdoor Adventure & 21st Century Skills
Summer camp provides endless activities for campers to participate in and enjoy. From aquatics, to sports and arts, campers are surrounded by activities that make summer camp fun and exciting. Some of these activities are played throughout the year, while others are more unique to the summer camp experience. It's these unique activities that challenge campers to step outside their comfort zone and try something new. Outdoor Adventure is one of these programs that is unique to camp and extremely popular with campers of all ages. The best part is that in addition to having an amazing time, campers are also learning life skills that will lead them to great success in today's world.
The Outdoor Adventure program at Iroquois Springs consists of the high elements rope course, low elements and initiatives, climbing tower, zip line, canoe trips on the Delaware River, mountain biking, overnight camping trips, outdoor cooking and survival skills. Outdoor Adventure truly lets campers "soar to new heights". The program allows campers to step outside their comfort zone and try something new in a safe supportive environment. These challenging OA experiences promote the development of teamwork, communication, problem solving, leadership, trust, and most importantly self confidence. These "21st century skills" are core competencies that advocates believe need to be taught to help students thrive in today's world. The term "21st century skills" refers to a set of knowledge, skills, work habits and character traits that are believed to be important to success. The Institute of Museum and Library Services lists these "21st century skills" to include critical thinking, problem solving, communication, leadership, and teamwork. The activities designed at OA develop these skills and more. By working together and communicating, campers also learn to give and accept support. There is nothing more powerful than watching a group of 9 year olds work together to get the entire group through an obstacle, or to make the Big Swing take off because the group worked together to make it happen.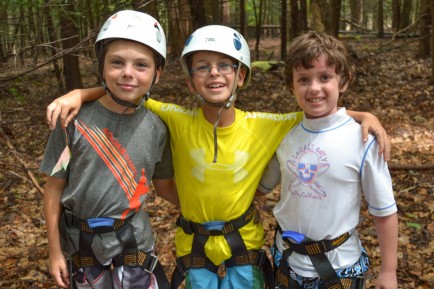 An Outdoor Adventure experience boosts self esteem and gives campers the confidence to try new things in other areas of life. Campers achieve things they never thought possible. The climb leading to the zip line may look scary during the first visit to OA, but each visit brings the impossible to reality and results in great confidence and achievement. Our trained and certified staff encourages campers to step outside their comfort zone with guidance, support and safety. This valuable non-competitive avenue for achievement is priceless. The "21st century skills" learned at OA are skills that can be applied in all educational, career and civic settings throughout life. To effectively communicate, be a team member, problem solve, trust, support, lead, and believe in yourself are all skills that will take a person far in life. Yes, there are many incredible activities and events that will take place during a camp experience, but time spent at Outdoor Adventure will definitely be high up there as memorable, meaningful, and valuable for future success.