Sleepaway Camp in 2021
Camp in 2021 is More Important Than Ever Before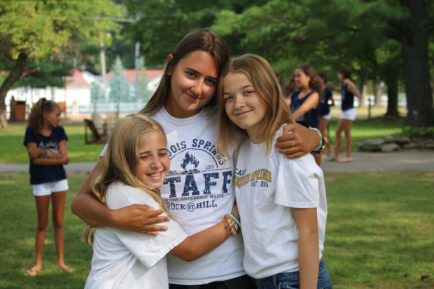 Childhood is defined by interpersonal interactions beyond the scope of a digital screen. During the past year, amidst the COVID-19 pandemic, the forced mediated environment hindered the ability to connect with peers on an interpersonal level. Secluded and confined to our homes' four walls have not been ideal for children's social development and growth. Yes, your child may have returned to in-person school. However, with smaller classes, limited interaction, all masked, your children still lack and crave essential interaction and communication. Within the COVID-19 period, children were likely not introduced to new people and were not introduced to a diverse set of peers with a different perspective on the world. With this in mind, we can delve deeper into the importance of returning to camp and the assimilation of your children back into an interpersonal and social society. 
Along the lines of this conversation, real-time research has been conducted to show how unnatural it is to rely on the virtual space for everything, especially social interactions. In my 2020 research recently submitted for publication, I found that many students lacked the motivation necessary to succeed and enjoy learning during the pandemic. 53.7% of the teachers and school personnel surveyed in early 2020 said their students were less motivated in the virtual environment. Thus, translating into the lack of motivation to connect with others, further making children feel more secluded.
Now, with camp approaching, campers and parents are beyond excited but simultaneously hold reservations. The introduction to an unfamiliar environment for the first time or since 2019 creates a sense of nervousness in parents, which we cannot ignore. In order to combat this, below is a list of reasons to send your child to sleepaway camp in 2021.
Camp gives your child the opportunity to be autonomous and independent in their decision-making.
Many parents recognize that when their children come home from camp, they are more responsible, mature, and independent. The Iroquois Springs camp community promotes problem-solving skills and bunkmate collaboration to overcome various challenges. This summer will be no different, and it might even be more beneficial. While stuck at home, these children barely had a break from their family norms and routine. Now, kids are not used to being challenged in a differing environment, taking risks, and failing. At camp, they overcome those challenges through obtaining new friends, no distracting technology, and new activities. When at camp, confidence levels skyrocket due to the absence of parental observance 24\7. Feeling appreciated, safe, and confident is integral and necessary to project onto our campers. Being at camp allows your child to fail, succeed, and learn with a diverse group of people surrounding them, further preparing them for life's obstacles.
Interpersonal interactions that are un-mediated allow for kids to feel a deeper connection to children alike.
Typically, camp is a great way to escape the media-saturated environment, but this year the disconnect is incredibly substantial. Children may be expected to snap back into their social circles right when they arrive at camp, but this is unlikely. After over a year of increased peer interactions on Zoom, text, Tik Tok, Instagram, and various mediated platforms, there will undoubtedly be a period for acclimation when your kids arrive at camp. Nevertheless, once our campers begin doing icebreaker activities, teamwork challenges, and more, they will feel right at home and break out of their shell. The camp directors and program staff have kept all of this under consideration when planning for staff orientations. During the initial introduction, your child will observe their peers behaviors and interpret their surrounding interactions. The five senses, vision, hearing, smell, taste, and touch, are all in-play at camp. This was unavailable to children in a virtual setting, and the use of all the senses allows for more straightforward interpretation and is essential to social growth.
Notably, camp staff who will also be experiencing a transition to camp are who your campers will be looking up to for guidance.
We understand that the transition is not only difficult for children but also for our staff. To accommodate their needs, we have them arrive at camp weeks before our campers. Further allowing us to teach, provide essential orientation, and acclimate them into the camp environment. Post-pandemic, staff will be just as excited as your children to arrive at Iroquois Springs. Recognizably, being introduced to new adults is beneficial for your children to learn from diverse and well-qualified personnel. Our staff are the role models for our campers, and we look forward to seeing our campers and staff grow, learn from each other, and become one big camp family. An NYMetroParents article stated, "At camp, your child will be greeted with open body language (and an unmasked smile when that is possible again!) by multiple adults throughout the day. At each new activity, an adult speaks to the children using age-appropriate language and the clearly expressed goal of wanting everyone to participate and have fun. Children see new adults as positive role models at camp, which helps them learn to be comfortable with meeting new adults outside of camp when appropriate." (2021) At Iroquois Springs, we look forward to curating these connections between our campers and staff to create a fun, engaging, and interpersonal camp experience.
Ultimately, the teachable moments, challenges, and fun your children will encounter at Iroquois Springs post-pandemic is necessary for social, interpersonal, and intrapersonal growth. We are excited to unplug from the mediated reality and focus on self-growth, reflection and in-person connection. In the end, our camp family will leave campus with lifelong friendships, memories, and a well-needed unplug from the saturated mediated environment.