Thanksgiving is Here!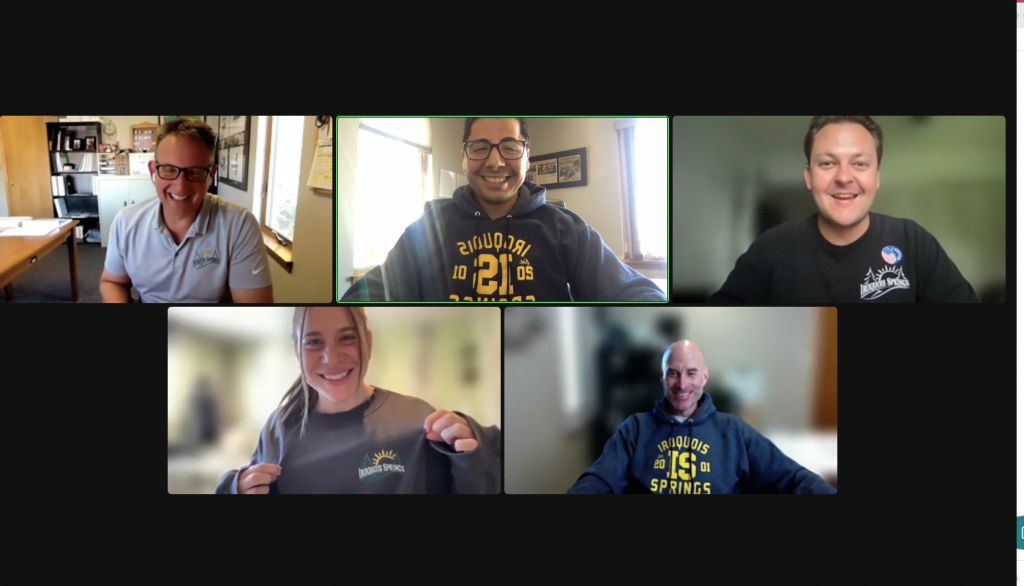 Thanksgiving is here! Time to gather with friends and family, kick off the 2022 holiday season, and give thanks! It's the perfect time of year to express our gratitude and appreciation for the people in our lives and the opportunities we are given. For all of the happy moments, as well as the difficult or uncertain ones, it's important to show our gratitude for the people who we value and make a difference in our lives. That's what gratitude is all about, recognizing the good in your life.
Practicing gratitude has many benefits on our overall well-being and mental health. Research finds that feeling grateful fosters both physical and psychological health. Expressing (or even feeling) gratitude improves our immune system, reduces stress, improves sleep, strengthens relationships, increases happiness, boosts compassion, and gives us better coping skills.
When thinking about the many benefits of showing gratitude, I am reminded of a very special Iroquois Springs ritual at evening line-up. Each evening, following announcements, the camp community looks forward to "fuzzies." These cute little critters are given to individuals being recognized for something thoughtful they did for someone else. Campers and staff nominate individuals who they want to thank and acknowledge. The camper (or staff) who is recognized receives a "fuzzie" with celebratory cheers from the crowd. It's not only a wonderful way to honor a person's thoughtfulness, but it also allows others to express their gratitude. Showing gratitude at camp strengthens friendships and brings our camp family together.
We are grateful for our camp family, who gives so much of themselves and shows us what friendship and community is all about. Staff members consistently give 100% to make sure campers are becoming more confident, independent, and resilient individuals. Campers give their ongoing spirit and willingness to get involved in everything camp offers to build camp memories and friendships that will stay with them for a lifetime. And parents give their kids the gift of camp and their trust in us to take care of them for the summer. For that, we are all so very grateful.
Wishing everyone a wonderful Thanksgiving celebration. As you gather around the table and enjoy a Thanksgiving feast, let someone know how thankful you are for them. And when the table has been cleared and the dishes put away, keep the gratitude going! Think back to a time when someone expressed their appreciation or gratitude for what you have done and how good it made you feel. Let's keep that feeling and connectedness going all year long. Enjoy!
"In the turmoil of the past few years, we must find time to stop and thank the people who make a difference in our lives. I am so very thankful for my family and friends and, of course, my IS family. Looking forward to the summer of 2023, when we will all be in Rock Hill together again! – Laura Newfield
"I am thankful for my family, my friends, and CAMP. I feel lucky that I am surrounded by kind, honest, loyal friends and family both at home and in Rock Hill. I am thankful that I get to spread my love for camp with hundreds of campers and counselors each summer. I am thankful for being a part of something that changes kids' lives forever. I am thankful for girls' side and the impact we make each and every day! I feel beyond lucky that I get to call Rock Hill my second home. I am truly Thankful"! #benicebekindbebravebeyou #lineup #campfriendsarethebestoffriends #bringonyear23 #lovemycampfamily -Rosie Bogard
"If the last year has taught me anything at all, it's to always put life into the proper perspective. Personally, I am thankful to be surrounded by friends and family who are supportive and willing to go the extra mile during the most difficult of times and when you truly need them most. In addition, as a family, we are thankful for modern science and medicine and have truly been inspired to live each day to the fullest and enjoy all moments we have together." -Brian (Bubba) Cohen
"I am thankful for my camp family. Heading into summer number 23 we have over two decades of campers and staff that we consider as part of our extended camp family. Iroquois Springs is a place where kids and adults come for the best six-week summer experience of their lives. Some come for one summer, and others stay for many more. The special thing is that once you leave Rock Hill, the soul of Iroquois Springs is part of you forever. I consider this one of the greatest gifts of all". #10for2 #BoysSidesonFire #LetsgotoLineup #BoysHC #ForeverFriends #ImLovingAngelsInstead #BrugItOut -Josh Bogard
"This year, I have a lot to be thankful for. Not only am I thankful for my family, friends, and loved ones, but I am also thankful for the camp environment that has shaped me personally and professionally in many ways. As we work towards summer 2023, I wanted to give a special shout-out to the year-round team. Mark, Laura, Brian, Matthew, and Lindsay give me the tools on a daily basis to be the best version of myself here in the winter office. Have an awesome Thanksgiving!" -Jared Brown