The Sleepaway Camp Transition and New Beginnings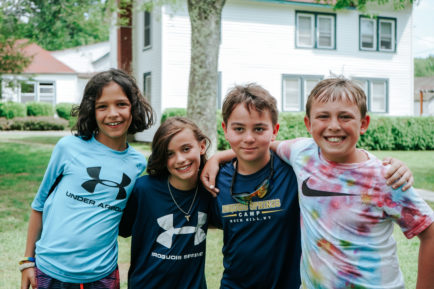 There is always a learning curve when you are introduced to a new and unfamiliar environment. Luckily, unfamiliar environments allow for creative and newfound opportunities. Take this from me, a recent college graduate with a multitude of years of day camp experience, who is in his first week of working full-time for a sleepaway camp. You guessed it; I am a new full-time camp professional at Iroquois Springs!
Off the bat, I was eager, nervous, confused, and thrilled all at the same time. These butterflies and feelings are similar to what your child or children will face during the transition from day camp to sleepaway camp. With the whirlwind in life COVID-19 created for us, this summer will not only be the most important but possibly the most challenging summer to transition into.
For me, day camp was ideal because you can live the camp experience while also having your family down the street. I always thought about how I lived the best of two worlds during the summer, one at camp and the other at home and outside of camp. Whether your children expressed it or not, it was the same for them. Yes, your children will miss this aspect of being home during the summer, but giving them this opportunity to grow, be more independent, and be themselves in a technology-free environment is an invaluable gift and unattainable in a day camp setting. 
A sense of autonomy, community, and inclusion is just a sliver of what sleepaway camps are all about. Leaving one camp community and moving to another would never be easy, but Iroquois Springs has proven to provide parents, children, and staff members with the tools and resources to make the switch.
How to prepare for the transition?
In order to prepare your child for the transition, allow them to voice their opinions, concerns, and what they are looking for in a camp experience. By giving your child a voice, confidence is built, and they become more comfortable with changing their summer routine. Evidently, routine, normalcy and interpersonal connection are all critical to children. By being transparent about the pros and cons of sleepaway camp with your child, the unpredictable and scary aspects of switching camps dwindle. One way to do this is to create excitement around your child's favorite activities that the camp has to offer. Positive reinforcement and continuous camp chatter is the best way to boost not just your child's confidence while the summer approaches but yours too.
How to plan for new friends?
Day campers typically are in a camp group with their friends from school or extracurricular activities. Even if your child knows one or a few other people going to the same sleepaway camp, being thrown into a new group of friends is something your child has rarely experienced. In this day and age, children are used to introducing themselves to others by liking, commenting, and viewing their peers' Tik Tok posts and through other mediated social circles. Being placed with others a child is unfamiliar with, especially in the age of social media and social distancing, might be awkward. There are a few practical measures you can pursue to combat this:
Arrange a phone call with the camp directors, division leaders, or the head counselors. In this conversation, you can learn more about how groups acclimate and what fun and effective icebreakers are used on the first day.
Try to find a "first camp friend" by getting in touch with a fellow camp parent, and you can discuss your questions, concerns, and more. This way, you do not feel alone in the process.
Allowing your child to connect with someone they will attend camp with before camp starts is helpful. It would provide comfort and room to break out of their shell early on in the ice-breaking process. Due to COVID-19, a Zoom call, being masked at a park, and more are great ways to initiate this process.
Overall, I have experienced significant growth and learned a lot from the incredible people and resources around me, and I suspect that the same will happen with your child. The excitement, cheers, and happiness your child will encounter the second they arrive at camp is worth your research, nervousness, and sacrifices during the transition process. Maintain that positive and exciting attitude, and your child will transition and assimilate into a camp community that will bring them a lifetime of friendships and memories.