Traditions
Every August, after we return from camp, my family takes a vacation. It's our time to reconnect and enjoy the end of summer before the new school year begins. It's a tradition we all look forward to. For the past four years, we have booked the same room at the same hotel, falling into the same routine of activities and events we visit. This year, I thought it would be fun to switch it up and try something new for our family getaway. I thought it might be interesting for the kids to have a change of scenery. My idea was rejected immediately, even before I could make suggestions of alternative options. The kids had no interest in making a change and expressed wanting to go back to the same place to keep our family tradition alive. They were not looking for new scenery, but instead were looking forward to revisiting all the familiar sites. What was I thinking? Of course they wanted to return to the place that holds so many fond memories, and gives them a chance to create new ones. How could I not recognize the power of traditions? These are children that spend their summers at a camp rich in traditions.
Traditions at Iroquois Springs are a significant part of the camp culture. Traditions shape the camp experience, and help us feel connected as a community. When we participate in camp traditions we are part of something very special, something bigger than ourselves. In an ever-changing world, it's comforting to know that camp traditions give us a sense of stability. They are moments that link the past and the present. A quick glance at the camp theatre walls, lined with Blue and Gold plaques of Color Weeks past, is the perfect reminder of the connection we share.
Daily events like gathering at the flagpole for morning and evening line up and sitting down for meals together, are just as important as some of the bigger traditions, like Order of the Blue and Gold and Rope Burn. Every summer campers look forward to traditions like the amazing Fourth of July Fireworks celebration, the excitement of Color Week break out, Tribals and the Apache Relay. Big or small, these moments and events bring a sense of belonging to our community and familiarity to all who have come before us. These traditions create wonderful memories that last a lifetime. They are a part of our identity, values and happiness at Iroquois Springs.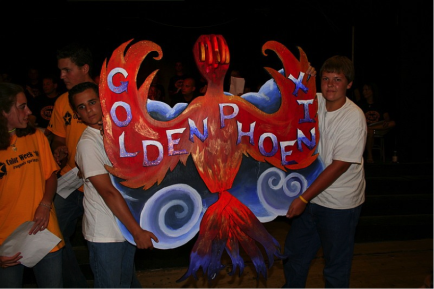 You may not remember the gifts you received for your birthday last year, or the names of all your middle school teachers through the years, but you will always remember the traditions at camp and the happy times you shared with your camp family. So get ready for another summer of smore's around the campfire, performing at Mock Rock, the excitement of carnival day, and so much more. These are the moments that keep us connected all year long. These are the traditions of Iroquois Spring